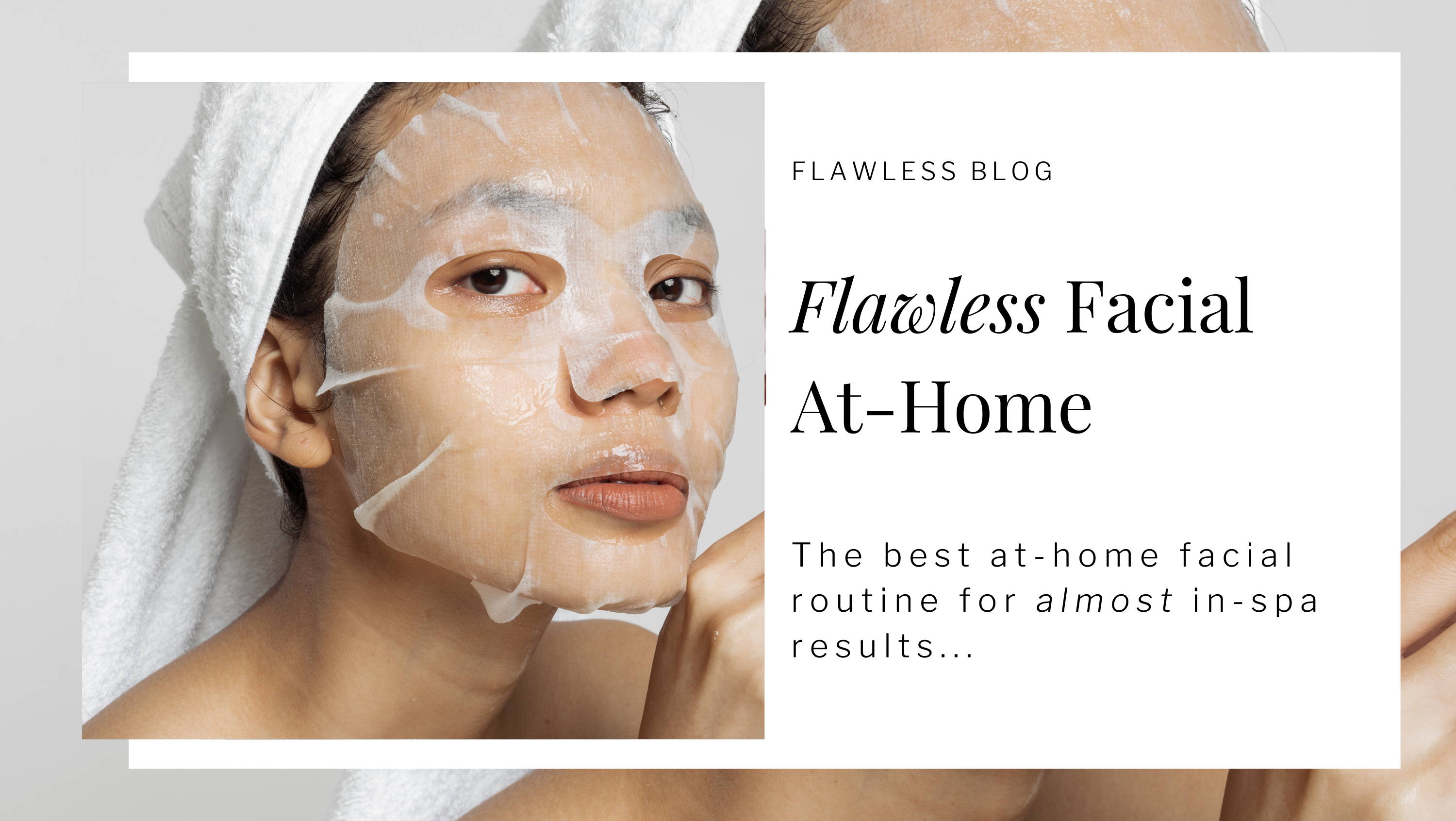 WHY YOU NEED EYE CREAM. HOW TO NOT LOOK TIRED HOW TO USE EYE CREAM. FLAWLESS BLOG. MELISSA FOX   BEST EYE CREAM
Nothing beats that "just got a facial" feeling. Clean pores, baby soft skin and a glow that's radiating from the inside-out. A trip to your favorite Flawless esthetician can make any day the best day ever, but sometimes travel, scheduling and budget keep us from seeing our skincare BFF as often as we would like.
In this article, we're outlining step-by-step how you can get as close to a Flawless facial at home using Biologique Recherche products. Keep in mind that certain aspects of a professional facial should be left to the pros, such as extractions and dermaplaning. However, exfoliating and hydration are skincare goals that can be achieved with the right combination of products.
Let's get into it…
Every facial starts with a thorough cleanse that lasts for several minutes. Your esthetician will remove your makeup and sunscreen, cleanse the skin and begin the exfoliating process. With sweeping and swirling massage motions, your facialist will work your skin-specific cleanser deep into the pores and start your facial off on a clean slate.
For your at home facial, we recommend starting with a micellar water such as Eau Micellaire to remove makeup and sunscreen. Generously soak two cotton rounds with the micellar cleansing solution and gently swipe across the skin starting at the chin and swiping outwards towards the ears and repeat up the entire face to ensure a thorough removal of oil based makeup and SPF.
For your second cleanse, opt for your skin-specific Cleansing Milk.
 Check out our Biologique Recherche Cleansers article to learn which Cleansing Milk is best for your specific skin concerns. 
Apply 3-4 pumps of cleanser, enough to generously cover your face and neck. Using gentle massage movements, work the cleanser into your skin for a full 3-4 minutes. It is essential to dedicate several minutes to cleansing for the best at-home facial results. Rins with lukewarm water and swipe with clean cotton round to ensure complete removal of the cleanser.
For your third and final cleansing step, use an enzymatic cleanser to gently begin dissolving and breaking down dead skin cells. This step ensures that any products applied will absorb evenly and effectively into the skin. The best enzyme cleanser for at-home is MBR's Enzyme Cleansing Booster. Mix the white enzyme powder with water to create a foamy lather and cleanse the skin for 1 minute.
Rinse with lukewarm water.
A proper Lotion P50 application is the essential first step after cleansing the skin. It restores the proper pH of the skin, increases blood circulation to ensure better product absorption, and detoxifies and purifies the skin.
Choose the proper Lotion P50 formula for your skin based on this article here. 
To apply, generously soak one cotton round with Lotion P50 and gently pat into the skin starting at the neck, working all the way up to the hairline. It is imperative that you use gentle patting motions, never swiping or rubbing. This will minimize irritation and allow the formula to penetrate correctly into the skin.
During a professional facial, your esthetician will most likely perform a booster treatment on your skin. Our favorite professional booster from Biologique Recherche is Lotion MC110. Fortunately for those of you at home, the same formula we use in-clinic is available for at-home use as well!
Lotion MC110 is like a super charger for your Lotion P50. This exfoliating, texture-smoothing and line plumping solution is applied in a similar fashion to Lotion P50. This main difference is you are going to spend extra time pressing the product into areas of concern, such as smile lines, large pores and areas of sagging skin.
Mist the skin with L'Eauxygenante to cool any tingling sensation and you're ready for your mask!
Step 4: Multi-Masking with CryoSticks

Nothing says "self-care" like a face mask. A nothing says "at-home facial" like mixing multiple masks together for your perfect combo. At Flawless, we're all about customization, so our estheticians often mix and cocktail several masks to create the perfect antidote for your skin concerns.
Here are a few of our favorite mixes for your at-home facial:
Masque Vivant + Masque VIP O2 for Brightening, Oxygenating and Purifying
Masque Biomagic + Masque Biosensible for Inflammation and Soothing Breakouts
Masque Visolastine + Masque VIP O2 for Hydration, Brightening and Glow
Apply a 50/50 mix of your chosen masks evenly to the face and neck. Allow to sit for at least 10-15 minutes. This is a great time to use your CryoSticks for extra lymphatic drainage and skin tightening.
Remove your mask with cold water to soothe the skin.
No facial is complete with a generous layer of hydrating and soothing cream. At Flawless, we love mixing Creme VIP O2 with Creme PIGM400 for our signature glow!
Top it off with our fan-favorite Alastin HydraTint SPF for glowy, sun-protected skin that screams "I just got the best facial ever!"
---