Biologique Recherche Quintessential Serums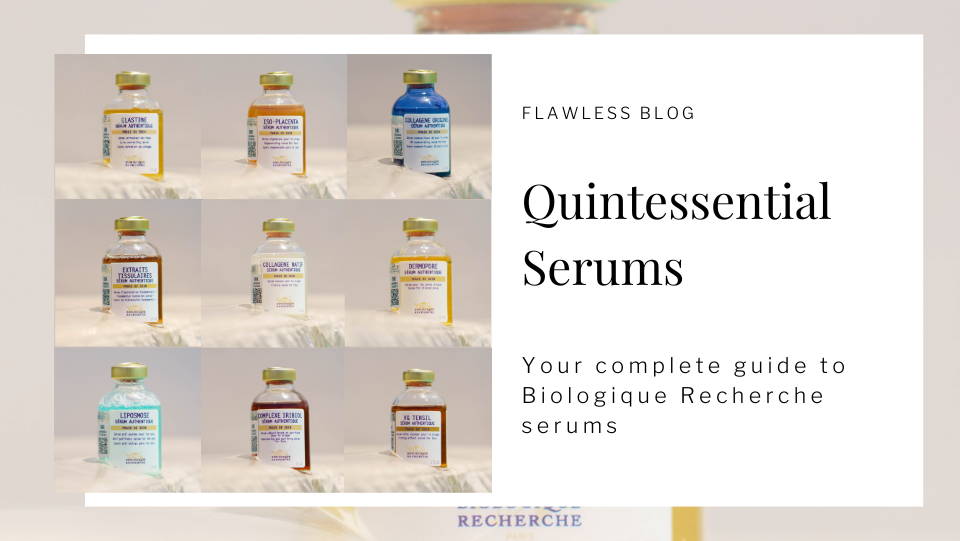 WHY YOU NEED EYE CREAM. HOW TO NOT LOOK TIRED HOW TO USE EYE CREAM. FLAWLESS BLOG. MELISSA FOX   BEST EYE CREAM
Biologique Recherche's Quintessential Serums are easily recognizable in their signature glass vials. Each tiny bottle contains a cocktail of specialized active ingredients that are formulated to penetrate quickly and deeply into the skin and effectively treat most ever skin concern under the sun.
Quintessential Serums are a must in every single Biologique Recherche skincare ritual. After toning with your skin-specific Lotion P50 formula, a careful selection of 2-3 Quintessential Serums should be applied for best results.
In this article, we'll cover all of Biologique Recherche's Quintessential Serums, what they do, how they work and which ones you should add to your routine today!
The most basic need of every skin type is hydration. Our bodies are made with over 80% water, and with the skin being out largest organ, hydration is essential for healthy function skin that can perform its job of detoxifying and protecting our cells.
Biologique has 3 Quintessential Hydration Serums: Serum Extraits Tissulaires, Serum Amniotique VG, and Serum Colostrum VG. 
All Biologique Recherche skincare routines should include one of these 3 hydrating serums, depending on your skin type:
Serum Extraits Tissulaires is the perfect lightweight hydration serum for oily, combination and acne prone skin types. This water-like serum delivers the perfect amount of necessary hydration to keep skin healthy without weighing it down or clogging pores. A must-have in your arsenal.
Ideal for oily, combination and acne prone skin types. Also great for teenagers and men looking to hydrate the skin without heavy creams or oils.
Serum Amniotique VG is Biologique's Level II hydration serum. Best for those with dehydrated skin seeking lightweight yet profound hydration for everyday.
Ideal for normal to dry/dehydrated skin types as a daily hydration serum.
Serum Colostrum VG is the most hydrating of Biologique's 3 essential hydrating serums.
This deeply nourishing serum penetrates for maximum hydration while reinforcing the lipid barrier on the surface of the skin to keep dry skin away all day long. Strengthens the skin to help the produce its own natural moisturizing factors. Ideal for those with very dry skin that is not prone to congestion.
In the world of anti-aging, prevention is key. The best way to turn back the clock on your skin is to effectively slow it down in the first place. These two Quintessential Serums from Biologique Recherche help to delay the skin aging process by two different yet essential mechanisms, making both of these serums essential for those concerned with the first signs of aging.
Serum A Glyca is an anti-glycation serum, one of the leading causes of skin aging caused by sugars in the body degrading collagen and elastin. A must-have for everyone over the age of 25!
Ideal for all skin types looking to prevent premature skin aging, especially those with a high sugar diet.
A breakthrough in anti-aging science, Serum Collagene Originel contains Biologique's patented Type-0 Collagen, the mother of all known collagen. This serum acts on the 4 main types of collagen found in our skin for a 3D restructuring effect. 
Serum Collagene Originel helps to maintain collagen and stimulate production of new collagen. Ideal for those with persistent lines and wrinkles, as well as those looking to prevent signs of aging.
Serum Collagene Originel is ideal for those with lines, wrinkles, sagging skin and loss of firmness. Essential for anyone over 30 to prevent further collagen loss.
For all skin types, this serum is perfect as an undereye serum. It hydrates, plumps and prevents aging skin while its lightweight texture sits beautifully under makeup.
If visible signs of aging are of concern, these Quintessential Serums active as a corrective mechanism to reduce the appearance of sagging skin, lines and wrinkles.
VG Tensil is an intensive tightening and firming serum that combats sagging skin. Effectively lifts the jowls and cheeks for a more youthful appearance.
Ideal for normal, dry or oily skin types looking to correct sagging skin on the face and neck.
Serum Elastine is an ultra-hydrating, line smoothing serum that gives the skin a plump, dewy and youthful appearance. This serum stimulates elastin production, a necessary protein in our skin that gives the skin its elasticity. For bouncy, healthy looking skin, this serum is a must-have!
Ideal for normal, combination and dry skin types looking to hydrate the surface of the skin and smooth fine lines and wrinkles. Also works for lines on the neck.
This cult-favorite serum is unsurprisingly in a category of its own. The revolutionary Serum ISO-Placenta, a miracle healer for acne scars and damaged skin. 
Formulated with biomimetic placenta that mimics the regenerative effects of human placenta, this serum renews the skin, encourages new healthy skin cell turnover and lightens pigmentation while healing and strengthening the skin barrier.
Ideal for all skin types, especially acne prone and sensitive skin types looking to heal acne scars and strengthen the skin barrier.
We recommend avoiding active breakouts when applying this serum, as its powerful regenerative effects can be too stimulating for active acne.
For congested pores, oily skin and occasional breakouts, Serums Complete Iribiol and Dermopore are the antidote. These Quintessential Serums for purification are effective, penetrating into the deepest layers of the skin while remaining gentle enough for daily or even twice daily use. 
Complexe Iribiol is a purifying serum for acne prone skin. Formulated with active ingredients to eliminate acne bacteria, exfoliate clogged pores and reduce inflammation for results without irritation or dryness. Can be used as an all over treatment or as a spot treatment for the occasional breakout.
Ideal for congested, acne prone skin or those prone to the occasional hormonal breakout.
Serum Dermopore is a lightweight pore minimizing serum that tightens enlarged pores and helps reduce texture and shine. Great for oily skin types to blur pores throughout the day. Works great as a makeup primer!.
Ideal for oily skin types as a daily oil and pore control serum. Normal to combination skin types will enjoy this as a pre-makeup application primer to minimize the look of pores on the face.
Unique to Biologique Recherche are their Quintessential Serums for under the eyes. These ultra lightweight potions penetrate deeper than eye creams, effectively tightening, firming and depuffing the under eyes.
For dark circles, opt for Serum Oligo-Proteines Marines. Serum Oligo-Proteines Marines is an anti-dark circle serum ideal for under the eyes and for energizing and depuffing the complexion. This serum increases circulation and detoxification under the eyes, clearing dark circles and tired looking eyes.
This serum can also be used on the face to awaken and brighten the skin.
Serum Liposmose is a depuffing eye serum that address all causes of under eye puffiness, including water retention, fatty desposits and poor circulation. A must-have for tired eyes!
---