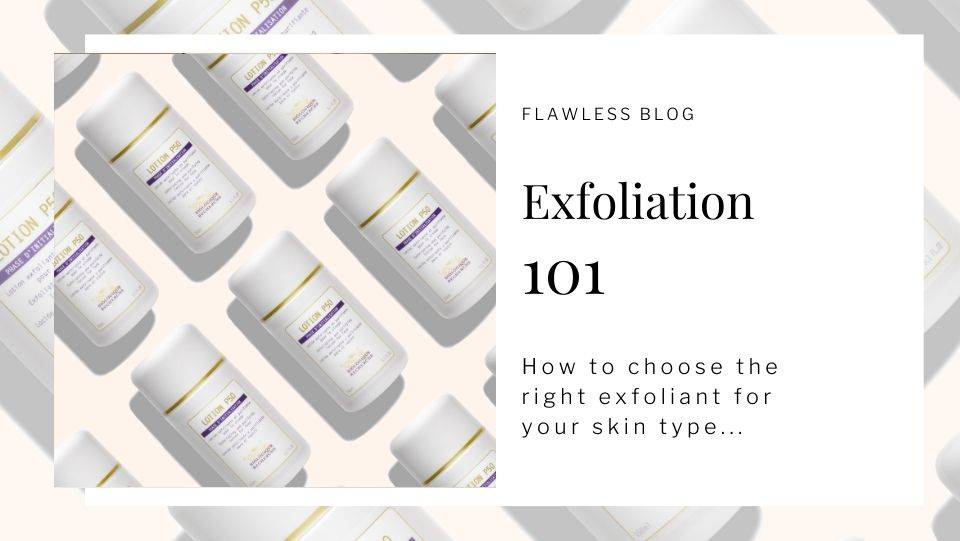 WHY YOU NEED EYE CREAM. HOW TO NOT LOOK TIRED HOW TO USE EYE CREAM. FLAWLESS BLOG. MELISSA FOX   BEST EYE CREAM
/Ex-fo-li-ate/ (verb) to remove dead cells from the surface of the skin
Our skin is an amazing organ that regenerates new cells at an unbelievable rate. In fact, our skin naturally renews itself every 28 days, replacing old, dead cells with healthy new skin cells. This natural exfoliation process is essential for healthy looking skin.
However, the rate at which new cells are produced and old cells fall off is not always equal. For example, when new cells proliferate inside the pore faster than old cells can move to the surface, the pore clogs and forms a closed comedone, or whitehead. Conversely, when new cells aren't produced fast enough, the surface of the skin appears dry and damaged with flaky build up.
To help our skin remove old cells and push new cells to the surface at an ideal rate, it is essential to use an exfoliating skin care product as part of your weekly routine. Exfoliating skin care products vary in texture, strength and formulation, so choosing the right exfoliant for your skin type can be tricky.
Under exfoliating can lead to clogged pores, blackheads and rough skin texture. Over exfoliating can lead to a damaged skin barrier, redness and sensitivity.
In this article, we'll breakdown our Top Exfoliants and help you choose which is right for you:
Biologique Recherche Lotion P50 Range


When it comes to iconic skincare products, Biologique Recherche Lotion P50 tops the list. Although called a "lotion" this liquid exfoliant is applied like a toner to speed up the skin's regenerating process. With six formula variations for different skin types and concerns, there is a Lotion P50 for everyone. Let's break it down:
LOTION P50 - for normal/combination skin
This multi-faceted cult favorite exfoliates, purifies, and cleanses Skin Instants while also regenerating cells. Heavy in AHA, BHA, & PHAs, as well as cider vinegar, sulfur, and vitamin B3, this "magic in a bottle" reconditions and moisturizes the epidermis's pH.
LOTION P50W - for sensitive skin
A slightly softer version of the original, this exfoliating lotion contains arnica extract as an active ingredient which is useful in calming the skin. Because of this it makes a great P50 lotion for first time P50 lotion users and those with delicate and reactive skin instants.
LOTION P50 PIGM 400 - for Hyperpigmentation
This extension of the P50 lotion line is best for those wishing to reduce pigmentation marks. Made with antioxidant agents such as wasabi extract & vitamin B3 for brightening qualities, this cleaner and exfoliant is ideal for dull Skin Instants and those who are targeting a pigmented complexion.
LOTION P50V - for mature skin
Enriched with vitamins, this exfoliating lotion is best for skin that is dull or lacking tone. It is beneficial for improving the natural PH balance of the skin. Made with yeast and walnut extract which contain soothing and toning
LOTION P50 1970 - for acne-prone skin
The original formulation of Lotion P50 with the inclusion of Phenol, an active compound that is used to penetrate through the layers of skin and deliver the formula deep within the pores. This formula is best for oily, acne-prone skin or those who are acclimated to Lotion P50.
LOTION P50 1970V - for more resistant mature skin
The cult-classic formula with the inclusion of vitamins to suit aging or dryer skin types.
We recommend having at least two formulations in your collection so you can best treat your skin's needs on a day-to-day basis.
Best Exfoliant for Acne + Wrinkles
For many women, acne and wrinkles are not mutually exclusive. Hormonal influences and fluctuations and cause increased oil and inflammation leading to breakouts, while simulateously depleting collagen and elastin production, forming wrinkles, fine lines and sagging skin.
Exfoliation is the best way to both clear congested pores and smooth away dead skin to lessen the signs of aging. If acne and wrinkles are your main concerns, we recommend an exfoliant like MBR's Beta Enzyme.
Formulated with a complex of mild hydroxy acids and papain enzymes, Beta Enzume removes excess sebum, revealing a radiant and refined complexion. This wash-off exfoliating mask stimulates skin cell turnover, promotion the creation of new healthy cells to replace aging skin cells on the surface of the skin. The skin is regenerated and wrinkles are diminished with daily use.
Best Exfoliant for Brightening

For dull skin tones and hyperpigmentation, a brightening exfoliant is best. Valmont's newest exfoliating fluid, LumiPeel is a rich exfoliating water that blurs imperfections for skin that looks filtered.
Born from the latest generation of active exfoliants, LumiPeel is your daily treatment ally for a flawless complexion. Exfoliant PHAs work together with papaya and prickly pear enzymes to resurface and refine the skin's texture while the Swiss Phyto-Complex and white mulberry root remedy imperfections in the complexion.
Applied mornings and evenings, you'll notice smoother skin, a brighter skin tone and a diffused light glow.
Best Exfoliant for Dry/Sensitive Skin

Sensitive skin requires extra care when exfoliating. Using too strong a formulation can disrupt the health of your skin barrier, ensuing inflammation and vulnerability to bacteria and breakouts. Look for a formula with gentle acids and hydrating ingredients to prevent any irritation.
We love Pietro Simone's Imperfection Diminisher. This exfoliating gel peel is formulated with Azelaic Acid, commonly recommended by dermatologists for rosacea, redness and senitivity. A combination of Beta Glucan and Copper Gluconate soothes and calms the skin while provides an intense deep hydration. Imperfection Diminisher promotes collagen synthesis, wound healing and skin regeneration.
Best Exfoliant for Acne + Acne Scars
Meet the star player of AHAs. Naturally derived from bitter almonds, Mandelic Acid is a gentler alpha hydroxy acid (AHA) that targets acne, age spots, discoloration and wrinkles without the typical irritation that can trigger post-inflammatory hyperpigmentation, especially in darker skin tones.
Vivant's 8% Mandelic Acid 3-in-1 Serum helps to reduce inflammation for cystic breakouts, exfoliated clogged pores and non-inflammed under-the-skin bumps, and simultaneously lightens and prevents dark spots. This serums is the must-have exfoliant for those that deal with chronic breakouts.
---