Biologique Recherche Cleansers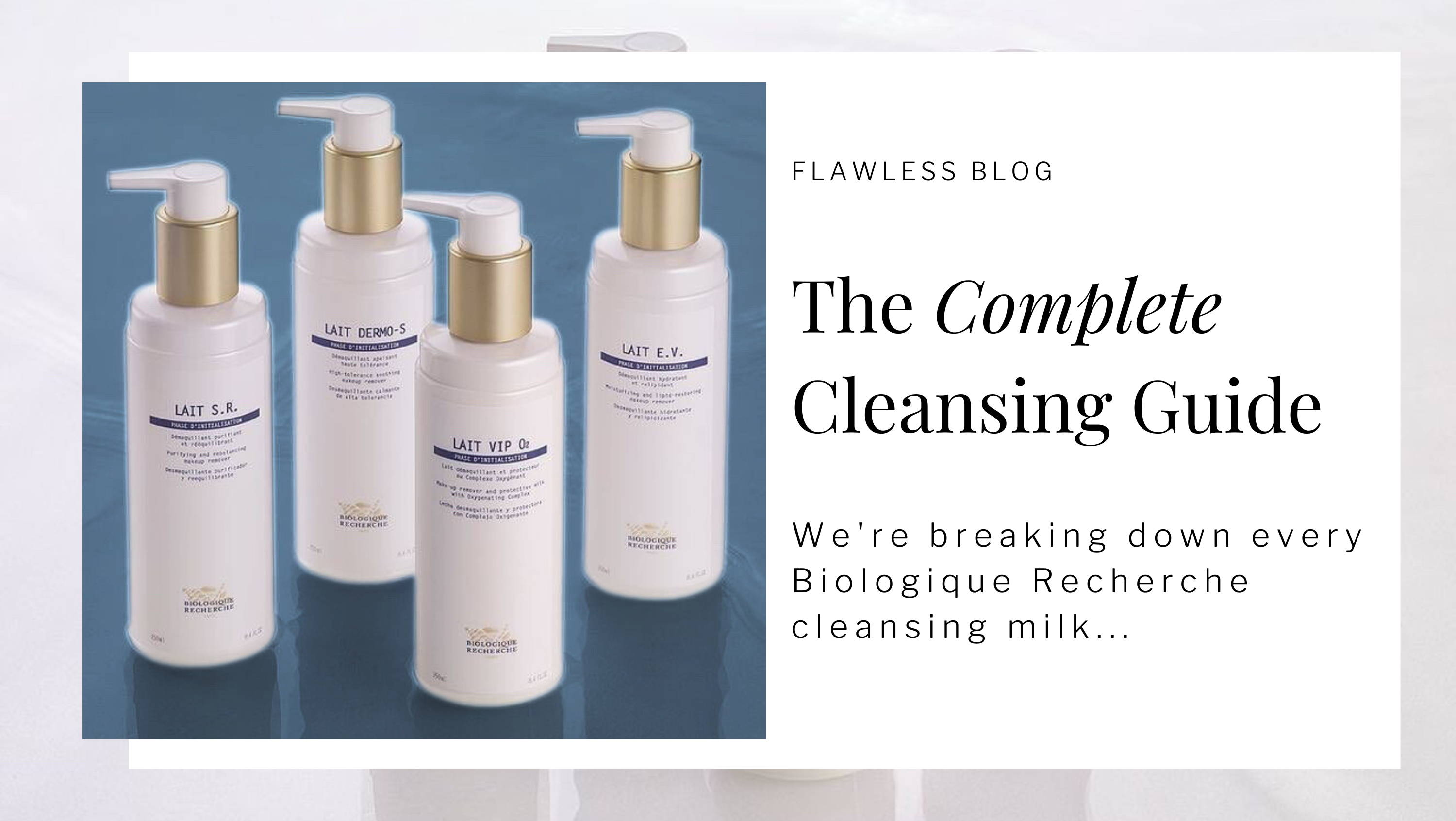 WHY YOU NEED EYE CREAM. HOW TO NOT LOOK TIRED HOW TO USE EYE CREAM. FLAWLESS BLOG. MELISSA FOX   BEST EYE CREAM
Brightening, purifying, oxygenating, hydrating, soothing…
Is your facial cleanser doing all of the above? If not, it's time to switch to one of Biologique Recherche's milky cleansers. Now with two new formulations for an even more hyper-customized cleansing experience, Biologique Recherche cleansers are the gold standard for gently cleansing the skin while thoroughly removing makeup, impurities and pollution.
Why Should You Use A Milky Cleanser?
Facial cleansers come in all shapes, sizes and texture. Gel, foam, oil, lotion, milk…the list goes on. Which should you choose?
Milky cleansers are a gentle and effective way to remove makeup, sunscreen and toxins from the skin without over-stripping the outer layers of the skin and leaving behind a tight, dehydrated feeling. Foamy, soapy cleansers with harsh detergents are harsh and drying, causing the skin to produce more oil to maintain its protective barrier, leading to more clogged pores and irritation.
Even those with oily, acne prone skin will find that their skin is more balanced with less inflammation after switching to milky cleansers. Lathering cleansers are NOT necessary to deeply cleanse oily, acne prone skin. Read that again.
Cleansing milks are more effective than gel and foam cleansers at breaking down oil-based buildup. You probably learned that like dissolves like in high school chemistry. Skincare is all about chemistry. Lightweight oils and emulsifiers in cleansing milks bind to oil, makeup and sunscreen on the skin and mix them with water to rinse away, down the drain.
Choosing the right cleansing milk is essential to ensure a proper, thorough cleanse for every skin type. Let's break down Biologique Recherche's milky cleansers, including two new formulations:
Lait VIP O2 - for all skin types, especially those with dull skin + urban environments with pollution

Lait E.V. - for dry, mature skin types needing a nourishing, enriched cleansing experience

Lait S.R. - for oily, acne prone skin looking for anti-bacterial and anti-inflammatory cleansing without stripping the skin

Lait Dermo-S - for the most sensitive, intolerant skin types looking for a cleanser that doesn't burn, sting or cause redness

Lait VIP O2 is the cleansing hero for all skin types. Its oxygen-infused formula purifies and energizes, sweeping away the dirt, oil and pollutants that dull skin's natural radiance. Skin is reborn with a bright and fresh luminosity. Ideal for all skin types, especially dull, dehydrated, congested or those who live in cities.
Key Ingredients:
BR Oxygenating Complex: Combats pollution, increase cellular regeneration
Squalane: Nourishing, skin softening
Hyaluronic Acid: Pulls water into the skin while cleansing for instant hydration
A rich makeup remover, Lait E.V. effectively eliminates impurities and makeup, even the most resistant, while relipidating the driest areas of the face. Its active ingredients help prevent the skin from drying out, in particular for the mature skins which are prone to a severe dehydration. Its unctuous texture provides a true moment of comfort and leaves a nourishing veil on the skin. The skin is hydrated, supple and soothed of its sensations of tightness. Ideal for dry, dehydrated and sensitive skin.
Key Ingredients:
Amniotic Fluid: Deeply hydrates and replenishes dry skin
Squalane: Nourishing, skin softening
Fatty Acids: Protect skin from water loss; maintain lasting hydration
A revolutionary new cleansing milk from Biologique Recherche. Formulated specifically for oily, combination and congested skin types, this lightweight milky cleanser purifies pores, removes impurities and balances oil production for a deep, satisfying cleanse without stripping the skin's protective barrier. Ideal for oily, combination and acne prone skin.
Key Ingredients:
Meadowsweet Extract: A natural source of Salicylic Acid; calms inflammation
Myrtle Extract: Balancing, antiseptic
Onion Extract: Antibacterial; calms acne
A new generation of cleansing for sensitive, intolerant skin types. Lait Dermo-S gently removes makeup, sunscreen and impurities without disturbing the natural pH of the skin. Strengthens the skin barrier and reduces irritation. Ideal for even the most sensitive skin. Ideal for sensitive, reactive and irritated skin.
Key Ingredients:
Niacinamide: A skin barrier strengthening vitamin
Salvia Extract: Soothing, gentle antibacterial
Panthenol: Draws water into the skin
---