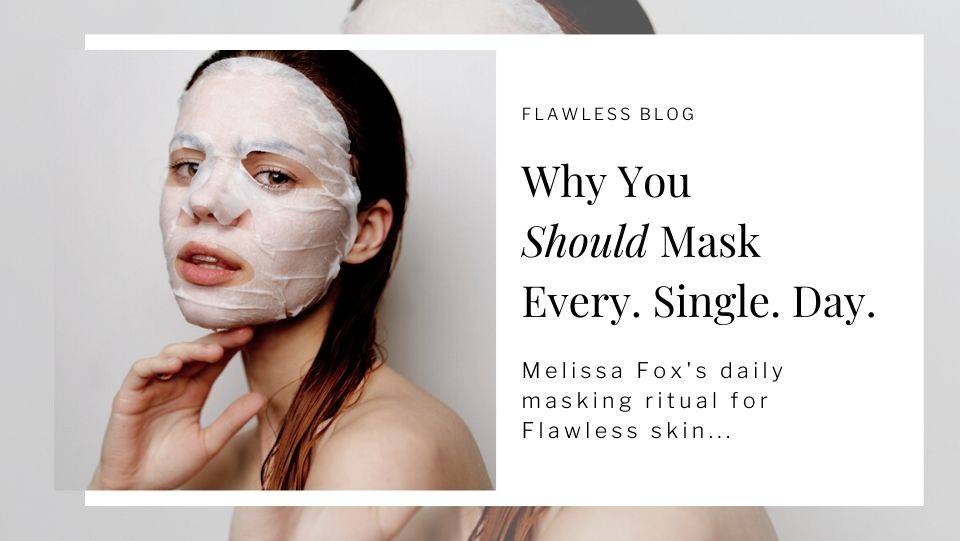 WHY YOU NEED EYE CREAM. HOW TO NOT LOOK TIRED HOW TO USE EYE CREAM. FLAWLESS BLOG. MELISSA FOX   BEST EYE CREAM
If using your daily skincare routine is like eating a healthy diet, than consider face masks your vitamins and supplements. When paired with a great routine and used consistently, face masks can help you reach your skin goals more quickly and maintain your results.
Celebrity aesthetician Melissa Fox believes daily masking is the secret to flawless skin: "When I incorporate a mask into my daily routine, I absolutely notice a difference in my texture, pore size and glow. It's all about choosing the right mask for your skin instant and what your skin needs on that particular day." Fox explains her methodology, "Our skin has different needs every day, depending on our lifestyle, climate and daily activities. Whether you need extra hydration after a sweaty workout, soothing after a day on the boat or detoxifying after a night out, adding in a quick mask will make a huge difference in your skin by the end of the week."
It's important to have a variety of masks available to support your skin's ever-changing demands. Hydrating masks, detoxifying clays and exfoliating treatments are the building blocks of a well-stocked face mask collection. Here's a breakdown of our must-have masks when building your daily mask stash!
Your skin is feeling: Textured with large pores
Your mask of the day: Biomagic Mask - Biologique Recherche
A clay mask is a staple for anyone that deals with enlarged pores, uneven texture and combination skin. Biomagic Mask from Biologique Recherche is a unique clay mask that does not over-dry the skin like a traditional clay mask, leaving you feeling dehydrated and dull.  
Formulated with white clay, Biomagic Mask mattifies, purifies and protects with antioxidants and soothing ingredients like Panthenol and vitamin E. Skin feels nourished, smooth and perfectly balanced.
How to Use:
After cleansing, apply a very thin layer evenly all over the face and neck in upwards motions. Allow the mask to dry for 15 minutes than rinse with cold water.  Follow with serum and moisturizer.
Mel Fox Tip: Mix a dime size amount of Biomagic Mask with your morning cleanser for a quick and easy way to mask in the AM. Cleanse and usual and rinse with cold water for instantly tighter pores!
Your skin is feeling: Lacking in radiance and glow
Your mask of the day: Éclat Extraordinaire - La Fervance

Add a little luxury to everyday with this gold-infused, versatile hydrating mask. Designed to provide an instant golden glow, Eclat Extraordinaire moisturizes, tones, lifts, plumps and smooths the skin while soothing the senses.
The ultimate ethical Clean Beauty formulation, expertly formulated in France's leading skin research laboratory, dermatologically tested, and Certified COSMOS by Ecocert, this balm-to-oil mask gently emulsifies into a nourishing milk upon rinsing for a triple sensory experience that leaves the skin hydrated and radiant.
Gold reflects give the skin a warm radiance that can be used as a makeup primer or leave on treatment for skin that is sure to get you compliments!
How to Use:
Éclat Extraordinaire can be use as a wash off mask when applied after cleansing. It can also be used as an overnight mask when applied as the final step in your skincare ritual, or as a makeup primer when used in a thin layer before foundation.
Mel Fox Tip: Apply a light layer of Éclat Extraodinaire before your morning SPF for the ultimate "your skin but better" glow.
Your skin is feeling: Dehydrated and textured with fine lines
Your mask of the day: holi(bright) resurface glass mask - Agent Nateur

Mild exfoliation and instant hydration? Yes please! Formulated with a combination of powerful ingredients, including aloe vera, french silk peptides, pitaya, hyaluronic acid, and cucumber, Agent Nateur's holi(bright) resurface glass mask is a beauty-boosting, resurfacing treatment that hydrates and soothes while also actively and gently resurfacing and refining the texture of your skin and minimizing the appearance of fine lines, wrinkles and pores.
Ideal for mature, dry, sensitive, inflamed, or sun-exposed skin, holi(bright) is loaded with antioxidants, perfect for an intensely moisturizing at-home facial, ready to deliver you clean, clear, soft and smooth skin and a radiant, luminous, glass-like ageless glow.
How to Use:
Apply to clean skin and leave on for 15 minutes. Rinse with warm water and follow with serums and creams.
Mel Fox Tip: Leave on overnight for an intense smoothing effect. You'll wake up with zero fine lines!
Your skin is feeling: Suffocated from travel and stress
Your mask of the day: Masque VIP O2 - Biologique Recherche

This cult favorite mask from Biologique Recherche is a staple for jet-setting celebrities like Kim Kardashian and Jennifer Lopez - and for good reason! Masque VIP O2 is a creamy mask that neutralizes pollutants to prevent them from reaching the skin cells and eliminates cellular waste.  Formulated with Biologique's proprietary oxygenating complex, this mask is a must-have post-travel or after a stressful day at work.
How to Use:
After cleansing and toning with Lotion P50, apply a generous layer evenly over the face, neck and chest. Let sit for 15 minutes and rinse thoroughly with cold water.
Mel Fox Tip: Masque VIP O2 can be mixed with any other Biologique Recherche mask to add anti-pollution and oxygenation benefits. Works greath with Masque Vivant!
Your skin is feeling: Congested, textured and oily
Your mask of the day: Tri Active Exfoliating Masque - IS Clinical

If your skin is in need of some serious exfoliation, look no further than IS Clinical's Tri Active Exfoliating Masque. This scrub-to-mask resurfacing treatment will leave your skin feeling like you just stepped out of a Flawless facial in 5 minutes.
Tri-Active Exfoliating Masque combines powerful botanical enzymes, Salicylic Acid, and eco-friendly microparticles to provide an ideal combination of physical and biochemical exfoliation, while Brazilian Blood Orange provides added antioxidant protection and a luxurious aroma. This transformative treatment masque dramatically helps to smooth, brighten, and soften your skin. Your skin will feel baby smooth and surprisingly hydrated after use.
How to Use:
After cleansing, moisten face with water, then apply a thin even layer, gently rubbing in a circular motion and let sit. Leave masque on for up to 5 minutes to allow enzymes to function. A gentle warming sensation may occur due to an increase in micro-circulation. Rinse with cool water and immediately pat dry. Follow with several layers of hydrating serum.
Mel Fox Tip: This mask is best used only once a week to avoid over exfoliating.
Your skin is feeling: In need of serious glow ASAP
Your mask of the day: Prime Renewing Pack - Valmont
For days when you need your skin to look out-of-this-world supermodel glowy, look no further than Valmont's signature Prime Renewing Pack. This cult-status mask is one of the few treatment masks that leaves behind a dewy, lit-from-within glow that actually lasts after rinsing it off.
Ideal for before makeup or as an overnight mask, Prime Renewing Pack feels cooling, tingly and hydrating on the skin. Often called "photoshop in a bottle," this creamy mask is formulated with Valmont's Triple DNA complex, retaining 10,000 its weight in water for instant plumping. A powerful peptide complex renews the complexion and erases fine lines in a pinch.
How to Use:
Apply to clean skin and leave on as long as possible. Prime Renewing Pack's results increase the longer it's left on. Ideal for facial massage or paired with your favorite skin care device.
Mel Fox Tip: Mix a pea sized amount of Prime Renewing Pack with your nightly moisturizer for a quick overnight mask without the fuss. No rinsing required!
Your skin is feeling: Irritated with a damaged skin barrier
Your mask of the day: L'Elixir des Glaciers Masque Majesteux

If you're a chronic over-exfoliator, a healing and repairing mask is an absolute must in your collection.  Formulated with healing propolis, royal jelly and honey extracts, Valmont's Elixir Masque Majesteux infuses the skin with precious ingredients cultivated in beehives. Its transforming texture is enriched with liposome DNA that immediately nourishes the skin and soothes any signs of irritation.
Maintaining a healthy skin barrier is essential for all skin types, including acne prone skin. For sensitized, over-exfoliated or chronically dry skin, this luxurious cream mask is your new BFF!
How to Use:
1-2 times a week, apply a thick layer of product to a clean face. Massage in upwards circular motions for 1-2 minutes to relax skin and help product absorb and nourish. While massaging, the texture evolves into an oil. Leave on for 5 minutes, then massage mask with wet hands as its texture becomes milky. Rinse and continue with usual skincare routine.
Mel Fox Tip: Masque Majesteux is ideal after traveling to a cold climate, which can damage the outer layers of skin. Be sure to pack this skin savior on your next ski trip!
Your skin is feeling: Ready for a refresh
Your mask of the day: DetO2x Pack - Valmont

The perfect mask for a Friday night in with the girls! This bubbling, evervescent mask is a fun, sensory experience while simultaneously detoxifying your skin for instantly brighter, healthier skin.
DetO2x Pack detoxifies the skin of urban pollution, free radicals and other aggressors before refreshing it with clarifying oxygen. The mask's texture evolves from a generous cream to a crackling active foam that sizzles, crackles and pops for an ASMR mask experience. The individual capsules preserve freshness and integrity, and make it easy to take them with you everywhere! This mask is suitable for all skin types, especially those who live in busy cities, have stressful lifestyles or travel frequently.
How to Use:
Open the lid of the individual Deto2x Pack capsule. Apply the entire amount to cleansed face and neck skin, avoiding the eye and mouth area. The mask will lather and increase in volume. After 7-10 minutes–once most of the bubbles have crackled, rinse with cold water and continue with the rest of your skincare ritual.
Mel Fox Tip: This mask is perfect for early mornings to help wake you up with its bubbling and fizzing sensation!
Your skin is feeling: Dehydrated and sensitive
Your mask of the day: Cream Mask Smooth 100 - MBR

For days when your skin needs immediate soothing and cooling hydration, the latest mask technology from MBR will save the day. Cream Mask Smooth 100 gives a jolt of freshness while calming the skin for instant hydration and plumping. This mask is perfect for post-beach or boat day to reduce redness and irritation from sun exposure.
Formulated with avocado and macadamia oils to nourish, MBR's proprietary Cooling Agent, skin-loving ceramides and hyaluronic acid, your skin will feel instantly reborn with this creamy, luxurious treatment.
How to Use:
Use as needed for instantly visible refreshment. After cleansing, apply a generous amount to your face and neck area. Avoid the eye area. Leave the mask on for at least 20 minutes. Remove it with cool water or a cosmetic pad and follow with a soothing skincare routine.
Mel Fox Tip: Keep this mask in the fridge to instantly reduce redness and inflammation.
---