Supercharge Your Skincare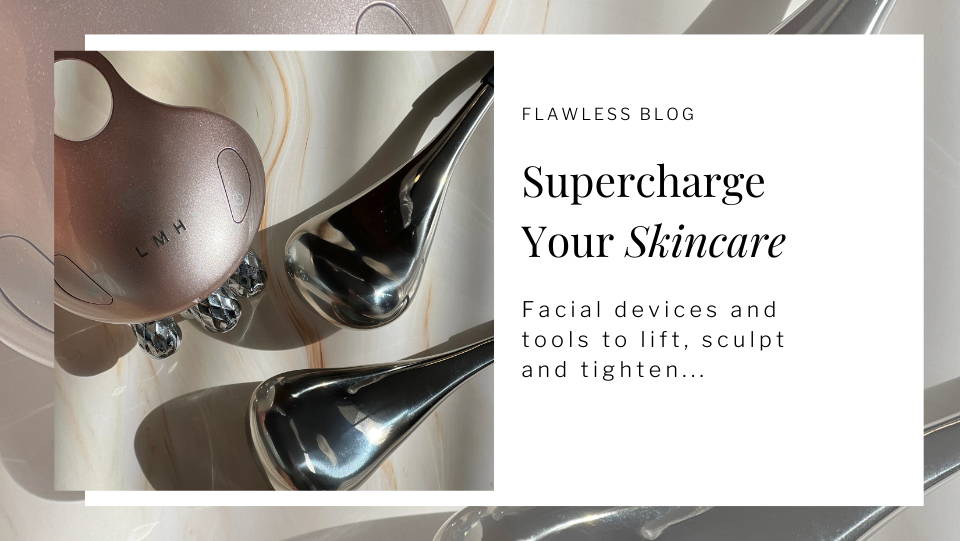 WHY YOU NEED EYE CREAM. HOW TO NOT LOOK TIRED HOW TO USE EYE CREAM. FLAWLESS BLOG. MELISSA FOX   BEST EYE CREAM
Zip, zap, clink… These aren't sounds you generally associate with your skincare routine. But enter the world of facial devices and a symphony of skin tightening, pore shrinking and lymphatic drainage awaits!
From microcurrent to LED, radio frequency and cryotherapy, the options for at home facial devices are seemingly endless. But before your go turning your bathroom cabinet into a science experiment, let's breakdown the science and benefits of some of the most effective skincare tools on the market.
Choosing the Right Device
When it comes to choosing which facial device to invest your hard earned money, it's best to start by identifying your skincare goals. What concerns do you feel like aren't being adequately addressed by your current skincare serums and creams?
Are your undereyes still puffy in the morning no matter how much eye serum you apply?
All the upward strokes of moisturizer in the world won't lift your sagging skin?
Cystic acne breakouts are still popping up around that time of the month, despite your 10-step routine?
If you're dealing with a persistent skincare concern, supercharging your routine with an effective skincare device might be just the boost you need to finally start seeing results.
Here are some of our favorite skincare tools:
1. The Fierce Skin Stimulator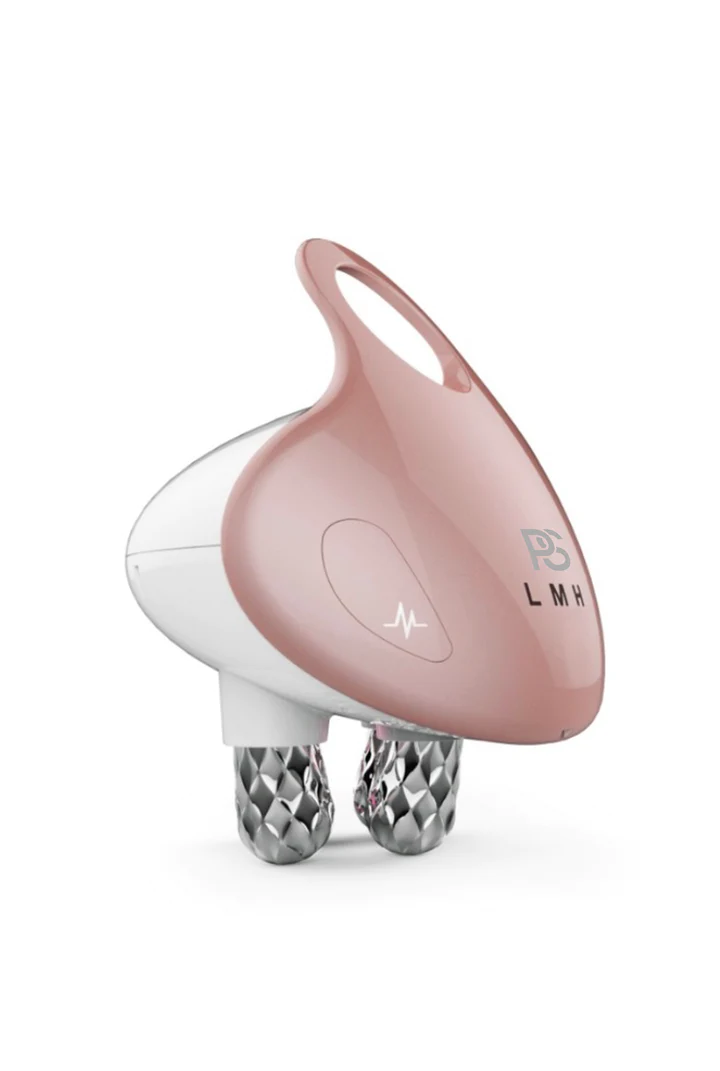 If you're looking for an all-in-one intro to the world of facial devices, look no further than Pietro Simone's The Fierce Skin Stimulator. This chic little gadget will add a major punch to your skincare routine, and makes a cute addition to your bathroom counter.
What It Does:
Crafted with not just one, but 4 advanced technologies, this facial massager will simultaneously lift, tighten, depuff and brighten the skin.
Electronic Muscle Stimulation (EMS), Radio Frequency, LED and Lymphatic Drainage work together to target different levels of the skin for an intense at-home treatment.
How It Works:
Electronic Muscle Stimulation, or EMS, is a deeper form of microcurrent that contracts the facial muscles. This "workout for the face" helps tone and lift facial contours while stimulating the production of ATP to increase cellular metabolism.
While EMS contracts and lifts the muscle, Radio Frequency emits energy waves deep into the skin to stimulate collagen production for a non-invasive facelift. When using The Fierce Skin Stimulator, you'll feel muscle contractions and warmth while this powerful tool works on creating younger looking skin.
Cycle through red, blue, yellow and pulsating LED lights to brighten the skin while 4 textured massage heads circulate on the surface of the skin for lymphatic drainage and an oh-so-relaxing facial massage that's almost as good as your Flawless aestheticians…
How to Use It:
Apply your favorite hydrating serum or lightweight facial mask to clean, dry skin. Select the LED color option best for your skin concern (red for collagen production, blue to reduce inflammation, yellow to brighten). Next, select the intensity of EMS and Radio Frequency.
Keep contact with the skin at all times, and move The Fierce Skin Stimulator in upwards motions, following the facial contours and holding at the top of each stroke for a lift that lasts.
Follow with moisturizer for a sculpted, supermodel glow.
If you love our Remodeling Face Lift and receiving microcurrent facials is part of your monthly routine, consider adding an at-home lift to your regimen.
For experienced microcurrent users, we recommend The ZIIP for a comparable at-home result.
What It Does:
The ZIIP uses multi-current technology that syncs with your body's own natural frequency for an unparalleled at-home facelift. Complete with an app full of tutorials and lifting routines, using the ZIIP effectively and correctly is easy.
How It Works:
ZIIP has pioneered the use of nanocurrent, tiny electrical currents that are in sync with your body's own frequency. Using the intelligent energy of this and other electrical current types, including microcurrent, ZIIP is able to deliver results that are immediate and long-lasting, and easily tolerable by all skin types.
Created by "the Nikola Tesla of facialists," Melanie Simon designed The ZIIP to bring her unparalleled electrical expertise outside of the treatment room. ZIIP, the first-of-its-kind at-home nanocurrent tool, syncs with an app that allows users to access different electrical combinations designed by Simon to lift, tone, and sculpt the face.
On THE ZIIP app, you'll find 7 Full Facials that treat the entire face, each one with a different focus and desired outcome; 7 Fast Treatments that zoom in on one area of the face or one specific thing, like contouring or plumping; and 5 Treatment Plans lasting anywhere from 5 to 30 days long for maximum results. It's like a workout regimen for your face!
How to Use It:
After downloading the app, apply the conductive treatment gel to clean, dry skin and follow your selected program. The ZIIP can be used morning or evening, and there's no downtime.
LED masks are definitely trending, with celebrities and influencers sporting light-up masks all over your IG feed. But are all LED masks created equal? You probably guessed that the answer is no.
At Flawless, we curate only the best tools and devices that are backed by science and research. Our go-to for LED in our treatment rooms has always been Celluma, and now you can harness the power of FDA approved LED at home with Celluma's at-home face panels.
What It Does:
Unlike the light up face masks available online that your favorite Tik Toker is sporting, Celluma is actually FDA approved for pain management, skin conditions and hair restoration. Celluma uses specific wavelengths of light energy to improve cellular health by accelerating the repair and replenishment of compromised cells for healthier skin.
How It Works:
Without turning this into a college-level science lecture, here's the basics on how LED works for anti-aging and acne treatment:
In the same way that plants use chlorophyll to convert sunlight into energy, high intensity light emitting diodes (LEDs) utilizing specific, proven wavelengths of light can trigger a natural biostimulatory effect in human tissue. Research has shown that LED can increase circulation, accelerate tissue repair, kill acne bacteria, decrease inflammation, improve acne prone skin, skin tone, texture and clarity, decrease under eye wrinkles as well as ease muscle and joint pain, stiffness, spasm, and pain associated with arthritis. Simply put, LED energizes our cells so they can perform at their best.
Celluma LED light comes in various colors for different skin concerns:
RED LIGHT - Stimulates collagen and elastin production
BLUE LIGHT - Kills acne bacteria and reduces inflammation
How to Use It:
Celluma LED is most effective on clean, dry skin. At Flawless, we recommend applying a clear, lightweight hydrating serum such as IS Clinical HydraCool Serum and allowing to dry.
Next, apply your protective eye goggles and relax under your Celluma LED panel for 20-30 minutes, 2-3x per week.
If facial puffiness and undereye bags are your worst enemy in the mornings, cryotherapy may be just what you need along with your morning cup of coffee.
Icing the skin is a centuries old beauty hack to instantly depuff and tighten a swollen face. With Biologique Recherche's Cryo Sticks, icing your face has never been easier, or more chic.
How It Works:
Cryotherapy works by decreasing the skin temperature and limiting vasodilation. Constricting the blood vessels just under the skin helps to instantly reduce redness and puffiness. The gentle massage helps to push excess lymphatic fluid away from the face, decreasing swelling and contouring the face.
Biologique Recherche Cryo Sticks are made with medical grade stainless steel and store maximum thermal energy, ensuring cold is diffused in contact with the skin. Their ergonomic form molds to the contours of the skin, enabling them to work effectively on every area of the face, including even delicate skin areas like the eyes.
How to Use It:
Cryo Sticks are best used over your favorite face mask. Our pick? Biologique Recherche's cult favorite Mask VIP O2. This oxygenating mask helps to awaken the complexion, ideal for reviving tired, dull skin.
Store your Cryo Sticks in the fridge for cryotherapy on-demand, or submerge them in ice water for 10 minutes before use. Once chilled, begin using your cryosticks by massage gently in outwards motions from the center of the face in slow, controlled strokes for lymphatic drainage.
Cryo Sticks can also be used to reduce a cystic breakout. Place the Cryo Sticks over the breakout and hold for 60 seconds.
If you're a selfcare queen, as you should be, you're probably well-versed in the benefits of gua sha and jade rollers. Beloved for their facial lifting, depuffing and plumping effects, these ancient tools have stood the test of time when it comes to transforming faces.
The La Fervance Contour and Sculpting Kit combines the Blue Sodalite Face Tool and Blue Sodalite Gold Roller for maximum effect.
What It Does:
The Blue Sodalite Facial Roller and is used to minimize the appearance of fine lines and wrinkles and helps decrease puffiness and inflammation while promoting cell turnover and improving elasticity and skin tone. Whilst the Blue Sodalite Face Tool has been carved especially for gua sha on the face.
How It Works:
Gua sha works by massaging the skin to release tension and relax facial muscles for smoother, wrinkle-free appearance. This ancient Chinese practice relies on cool jade stone to stimulate our body's natural energy meridians to dispell stagnant energy and excess fluid, resulting in intant depuffing and chiseled contours. Gua sha is also amazing for releiving pain from TMJ, headaches and tight facial muscles. The Blue Sodalite stone chosen for La Fervance is a calming stone that brings emotional balance and calms the mind. It enhances self-esteem and will be the ultimate relaxing tool.
How to Use It:
Proper use of gua sha requires some beginner level knowledge of the facial muscles and meridians. We recommend using this chart and following along with gentle pressure. The pressure required for gua sha is the same as sliding a quarter across a table - very light!
Gua sha is best performed in the mornings for increased energy flow and decreased puffiness throughout the day.
---