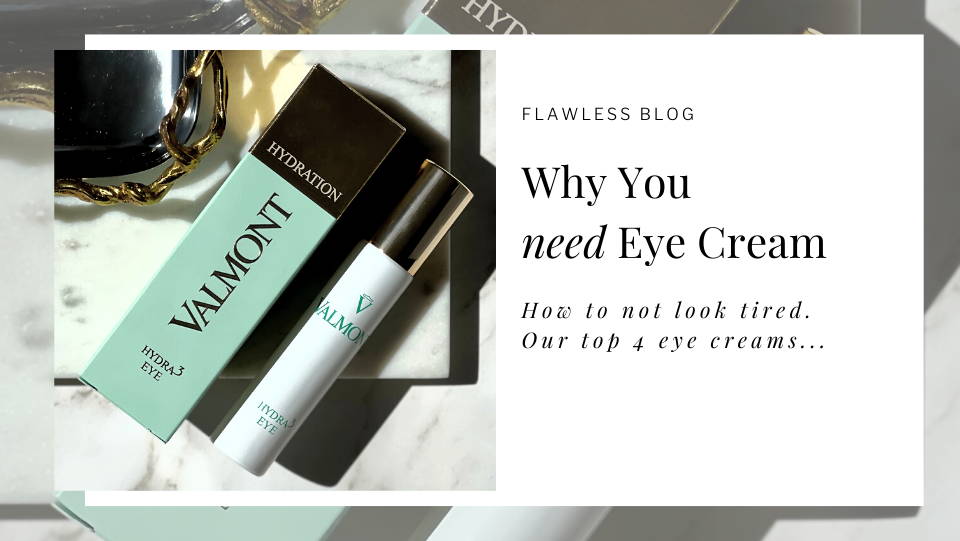 WHY YOU NEED EYE CREAM. HOW TO NOT LOOK TIRED HOW TO USE EYE CREAM. FLAWLESS BLOG. MELISSA FOX   BEST EYE CREAM
If you're a skincare junkie like we are, chances are your bathroom cabinet is fully stocked with cleansers, exfoliants, serums, creams, the list goes on…
But what about specific targeted serums and creams for the eye area? Do you really need an eye cream? In this post, we'll answer all your questions about why you need an eye cream, which eye cream is best for you and how to incorporate it into your routine.
The skin is a delicate and complicated organ and different parts of the face and body have different needs when it comes to skincare. The skin around the eye is thinner than the rest of the face and is the first to show signs of aging, dehydration, and tiredness. Basically, your under eyes will reveal all your secrets…
But don't worry, your secrets are safe with an effective eye cream. Eye creams are specially formulated with ingredients that target dryness, loss of firmness, puffiness and dark circles. Most importantly, a high-quality eye cream is made without irritants for the delicate eye area. While your face moisturizer may hydrate your under eyes, creams for the face often contain traces of active ingredients that will ultimately irritate the eyes and won't address concerns such as puffiness and dark circles.
Skincare guru and celebrity aesthetician Melissa Fox recommends using your eye creams in the morning. "Wearing eye cream in the morning helps to hold moisture to the eye, stimulate circulation, and lift contours," says Fox.
However, she warns against using rich eye creams in the evening: "Attracting moisture to the eye area at night isn't a good thing, as it can lead to puffiness and edema." The exception to her rule? "Liposmose Serum from Biologique Recherche is safe to use in the evening, as it helps to reduce water retention."
Apply your eye cream after serums, but before your face cream. This ensures your moisturizer is not blocking penetration of your eye cream for maximum results.
Gently tap your eye cream around your orbital bone, ensuring even coverage. Don't forget the brow bone! This area starts to sag as we age.
For puffiness, use gentle circles to massage around the eyes and promote drainage.
Which Eye Cream Is Best for You?
If you have dry under eyes, you may notice fine lines, flakiness and your concealer probably looks cakey a few minutes after application. Our favorite eye cream for dry under eyes is Valmont's Hydra3 Eye.
This lightweight yet richly nourishing eye cream is a welcome oasis for flaky under eyes. With a Polymatrix DNA complex, its texture acts like an invisible patch that diffuses moisturizing power for 'round the clock hydration.
Valmont's Hydra3 Eye is ideal for under makeup and will ensure your concealer looks as fresh and dewy at 8pm as it did at 8am.
For loose under eye skin, opt for MBR's CytoLine Eyecare Firming Concentrate. This fluid-like gel is a concentrated serum that noticeably tightens the under eyes almost instantly. Formulated with MBR's patented CytoLift technology, this eye concentrate uses a cross-linked matrix for an intensive mechanical lifting and firming effect that lasts all day.
Its powerful tightening action also acts like a compression for puffy under eyes, encouraging lymphatic drainage and relieving water retention.
To plump fine lines and address overall anti-aging concerns, look no further than l'Elixir des Glaciers Vox Yeux. This ultra-concentrated cream visibly rejuvenates eyes by smoothing and fighting puffiness and dark circles.
Valmont's Triple DNA super hydrates, retaining 10,000x its weight in water to plump lines and wrinkles, while caffeine, green tea & arnica decongest, depuff and brighten dark circles. l'Elixir des Glaciers Vox Yeux is a luxurious all-in-one eye cream that is sure to hide any trace of sleepless nights and a secret or two. It's a definite #FlawlessFave!
If your Saturday nights are finding their way into your Sunday morning eyes, an under eye patch might be just what you need to refresh, hydrate and depuff those post-party eyes.
Our favorite under eye patches are MBR's Awake & Lift Eye Patches. Their unique Liftonin®-Xpress technology acts like a polymer network to tighten and prevent moisture loss, resulting in an intensive and lasting physical tightening effect.
Keep these in the fridge for an instant pick me up!
---