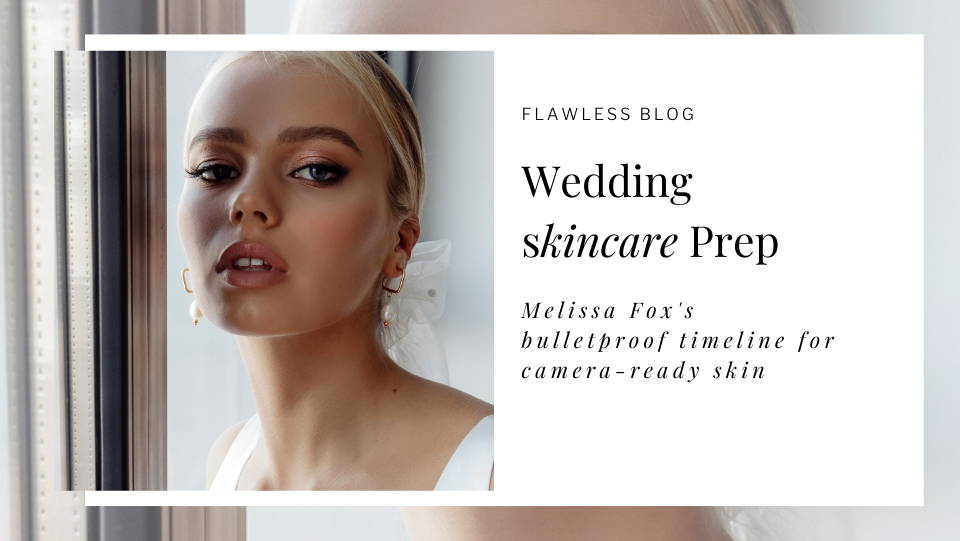 Preparing to walk down the aisle can seem like a full-time job. From your dress to your venue; your vendors and guest count, the list of "to-do's" seems infinite. Not to mention the overwhelming pressure to be the absolute best version of yourself for the moment you say "I do."
If you're knee-deep in wedding planning, chances are you've already started putting extra time and effort into the way you look. From diet and exercise to botox and brows, putting your best face forward is a top priority. And while an amazing makeup artist is an absolute must on your big day, nothing makes a bride glow like flawless skin.
Celebrity aesthetician Melissa Fox has event prep skincare down to a science. "Here at Flawless, we like to start seeing our brides with as much time as possible. At least 6 months to a year out from the event so we have time to get the skin super clear and poreless," says Fox.
Facial treatments ranging from minimally invasive microneedling to dermaplaning and microcurrent are effective for smoothing the skin's texture and creating an ideal canvas for makeup. It's important to allow enough time to try each treatment with time between for the skin to recover, adjust and produce results. The last thing you want to do is start experimenting 2 weeks before your event.
The same goes for your at-home skincare routine. Your aesthetician will recommend specific products to achieve event ready skin and your routine will likely evolve as your big day approaches. At-home exfoliating treatments will work overnight to clear congested pores and pigmentation in the early stages of your wedding prep, while plumping and hydrating masks are essential as the big day approaches.
1 Year Out - Focus on Clear Skin & Consistency
It's common for brides to start planning their wedding upwards of a year from the big day. Consider your skin prep part of event planning. Research the best aestheticians in your area, and work with them to create a timeline based on your specific skin concerns and goals.
If acne is your main concern, the more time you can dedicate to working with your aesthetician, the better. Starting with extraction-focused acne facials and a skincare routine based around exfoliating, anti-bacterial and anti-inflammatory ingredients is the best strategy.
Your aesthetician will want to see you every 4-5 weeks for deep cleansing facials. Gentle pore-by-pore extractions, HydraFacials and gentle chemical peels work to clear congestion while keeping inflammation to a minimum.
For at-home, Melissa Fox recommends IS Clinical's Active Peel System Treatment Pads. Fox says, "These at-home peel pads exfoliate and prevent breakouts, leaving the skin super glowy and crystal clear." Inspired by the brand's cult-favorite Active Serum, these 2-step peel pads are powerful yet gentle.
Step 1 is an ultra-light feeling formulation that produces a cool tingling sensation upon application, activating controlled exfoliation. It features a proprietary combination of powerfully active botanical acids and extracts.
Step 2 drenches the skin in luxurious hydration as it neutralizes Step 1 and boosts rejuvenation. It features a proprietary botanical Extremozyme technology and Copper Tripeptide-1, combined with soothing botanicals.
After cleansing, apply Step 1 over the entire face and neck; leave on for 3 minutes (do not rinse), then apply Step 2 over same area, and leave on. Follow with a soothing moisturizer.
6 Months Out - Time for Microneedling

Once the skin is clear, it's time to address any leftover scarring and pigmentation. "Microneedling with growth factors is the most effective treatment for acne scarring," says Fox. "The needles act to create micro-injuries to the skin which causes an increase in collagen production, filling in those deeper, textured scars and promoting new skin cell production to erase pigmentation."
Fox recommends scheduling your Microneedling facial on a day when you don't have anywhere to be: "The skin will be pink for about 24 hours post-facial while new collagen and elastin fibers are being stimulated." Be sure to avoid sweat, sun exposure and any exfoliation according to your aesthetician's instructions. It can take up to 4 treatments, each one month apart, to see the most dramatic improvement.
If hyperpigmentation and melasma are your main concern, Fox recommends Microneedling treatments along with at-home brightening skincare products containing Kojic Acid, Licorice Root and Arbutin. "Melasma is one of the most stubborn skin conditions, but with proper treatment and sun protection, we can drastically brighten the skin in time for weddings and events," says Fox.
A note on injectables - Many brides start Botox injections in the months before their wedding to smooth fine lines and give a lifted appearance. It's important to wait at least 2 weeks after any injectables before microneedling. Always consult with a reputable injector for any after-care instructions to ensure the best results.
3 Months Out - Poreless Texture
As your event date gets closer, its time to shift focus to the skin's surface texture and smoothness, which play a big role in how your makeup sits on the skin and lasts throughout the night.
"I love combining dermaplaning with our Jet Peel to smooth skin texture," says Fox. "Dermaplaning removes the outermost layer of dead, dry skin and peach fuzz. This helps makeup look fresh & smooth," she says.
Concerned that dermaplaning will cause facial hair to grow back thicker? "This is simply not true," says Fox. She explains: "Hair thickness is determined by hormonal influence on the hair follicle which lies deep under the skin. Dermaplaning the surface of the skin can't possibly alter the follicle."
Fox follows dermaplaning with a deep serum infusion using JetPeel. "This infusion machine pushes concentrated serums into the deep layers of skin at 450mph. It stimulates collagen production similar to microneedling without any downtime, making this the perfect treatment for brides getting ready for their bachelorette parties and bridal showers."
With about 12 weeks remaining until your big day, Fox recommends incorporating exfoliating, plumping boosters into your regimen, saying: "I love Biologique Recherche's Lotion MC110 for texture and fine lines." Lotion MC110 is a plumping and repairing beauty booster that gently exfoliates even the thinnest skin. Scars and uneven texture are smoothed out, while wrinkles and fine lines fade away. The facial contours appear redefined, and the skin is toned and moisturized.
Incorporate Lotion MC110 2-3x weekly in the evenings after cleansing. Fox recommends: "This product is best applied with a cotton round in upward pressing motions, really focusing on areas with fine lines and wrinkles to plump and smooth." Follow with serum and cream.
1 Month Out - Perfect & Hydrate
Your big day is almost here! With one month to go, now's the time to really perfect the skin and make sure your hydration levels are in check so that makeup looks dewy and natural. With all of the exfoliating, brightening and retexturing you've been doing for the last several months, its normal for the skin to feel a little parched.
Keep the skin hydrated by using a hyaluronic acid based serums twice daily. Fox recommends IS Clinical's Hydra-Cool Serum: "I love this serum because it doesn't clog pores and instantly hydrates."
This non-oily boost of hyaluronic acid cools, calms and soothes the skin. Great for redness and rosacea prone skin, it contains anti-inflammatory vitamin B5, mushroom extract, and centella asiatica to support the skin barrier and heal any irritation.
With about 4 weeks until your event, your aesthetician will want to boost the skin's elasticity and replenish any moisture loss with hydrating facial treatments. Melissa Fox's go-to? "I love using Biologique Recherche's Toleskin mask. It's a rich, nourishing sheet mask that instantly heals the skin barrier and replenishes lipid levels for calm, hydrated skin."
1 Week Out - Sculpt & Tighten
7 days until "I do!" Hopefully, your wedding checklist is nearly complete and those little butterflies have made their way into your stomach. Pre-wedding nerves are totally normal!
All that stress leading up to the big day can definitely affect your skin. "It's so common for brides to experience a small breakout or sensitivity in the days before their wedding," says Fox. "In fact, I often advise my clients to take an over-the-counter antihistamine before their final facial to quell any minor reaction due to nerves," she adds.
At your final facial appointment, your aesthetician will use everything in her toolkit to give you glowing, perfect skin! One final dermaplane and a Remodeling Face Lift will definitely do the trick!
Melissa Fox uses her Remodeling Face machine to lift and sculpt facial muscles for supermodel cheeks, lifted brows and a defined jawline: "This machine combines 3 types of current, including microcurrent, to work the facial muscles and give a super tight, sculpted look. It's an absolute must for brides, and their moms!" Fox follows up with a cooling massage and lymphatic drainage using Biologique Recherche's cult-favorite Cryo Sticks.
If your dress is strapless, you definitely don't want to forget the skin on your neck and chest! "MBR's Cell-Power Neck & Decolette Cream is amazing for smoothing and tightening," says Fox.
This rich, nourishing cream rejuvenates skin cells, enhances microcirculation for increased absorption and deeply hydrates to plump any fine lines. Apply nightly in upwards, sweeping motions.
1 Day Out - Depuff & Glow
Your guests are steadily making their way into town and you're prepping for your rehearsal dinner and the final few hours before you walk down the aisle. By this point in your wedding skin prep, your skin should be feeling clear, lifted and ready for your makeup artist.
Focus on lymphatic drainage and add a hydrating mask the morning of your wedding. Poor sleep and anxiety can leave your under eyes feeling puffy and tired.
"For puffiness, I recommend MBR's CytoLine Eyecare Firming Concentrate," says Fox. This fluid-like gel is a concentrated serum that noticeably tightens the under eyes almost instantly. It's powerful tightening action acts like a compression for puffy under eyes, encouraging lymphatic drainage and relieving water retention. Apply in pressing motions around the eye and eyelid.
For makeup prep, Valmont's Prime Renewing Pack is an absolute must. With a religious following, this mask is known for its cooling, firming effect and leaves behind the most luminous, lit-from-within glow. Your makeup artist will thank you!
Everyone has something about their skin they want to improve. Whether it's acne, rosacea, pigmentation, these conditions can affect your confidence and put a cloud over your big day. But with proper preparation, professional treatments and the right skincare routine, you can make a dramatic improvement that will ultimately leave you feeling more confident and ready to enjoy every second of your moment in the spotlight.
---