5 Ways to Wakeup Flawless: An Overnight Skincare Guide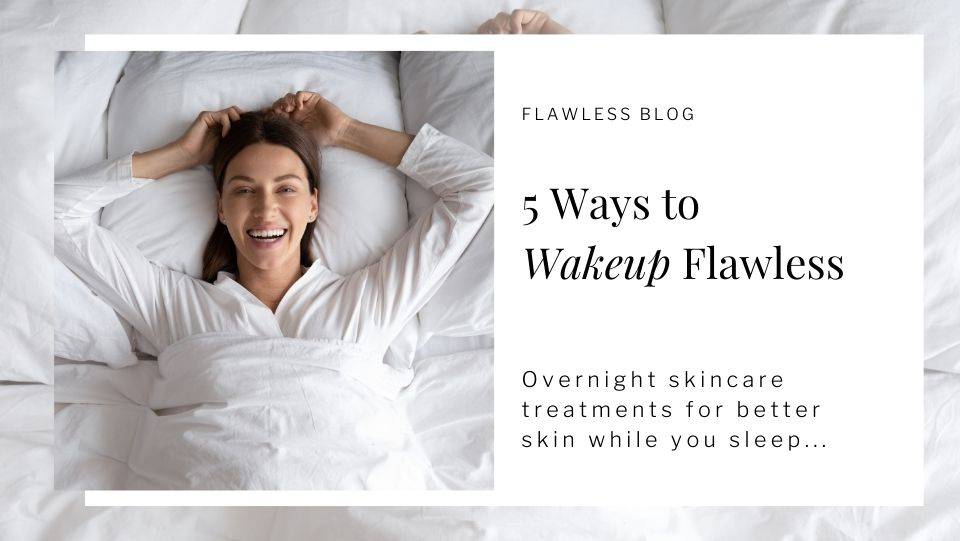 WHY YOU NEED EYE CREAM. HOW TO NOT LOOK TIRED HOW TO USE EYE CREAM. FLAWLESS BLOG. MELISSA FOX   BEST EYE CREAM
The quest for #nofilter poreless skin sometimes seems eternal. Lasting results take time - a luxury we don't always have on our side. Wouldn't it be great if you could just wakeup with better skin? Well, you can!
For days when you need to wake up with better skin than you went to sleep with, choose products that will work overnight, rejuvenating and renewing your skin while you get your precious beauty sleep!
Here are 5 Ways to Wake Up Flawless! Our top overnight skincare treatments that are formulated to get to work on your skin while you sleep...
1. La Fervance - Eclat Extraordinaire
Upgrade your beauty sleep with this luxurious, gold-infused overnight mask and wakeup with plump, dewy and renewed skin!
La Fervance's Eclat Extraordinaire is a gel-to-oil balm designed to provide an instant golden glow that amplifies overnight. Formulated to target 30 different skin functions, this delicious overnight mask is the ultimate multi-functional product. Eclat Extraordinaire contains Buriti Oil, rich in beta-carotene with excellent antioxidant, cooling, soothing and rejuvenating properties – increasing cell turn-over, is high in vitamins A, C & E and protects the skin from UV damage.
This overnight treatment is ideal for those with dehydrated, dull skin and is acne-safe!
Sleep Ritual: Apply a moderate layer to the face and neck after cleansing. The optional use of a massage tool will increase circulation, helping to lift, tone, smooth, drain lymph nodes, calm stress and enhance penetration for more intense results and benefits.
2. holi(bright) resurface glass face mask
Gentle exfoliation and plumping hydration, all while you drift away into dreamland! Agent Nateur's holi(bright) resurface glass face mask delivers on its promise for glass skin overnight!
This ultra-lightweight gel mask is formulated with lactic acid to gently exfoliate away dead skin cells while drawing essential moisture deep into the skin to plump fine lines and wrinkles. Formulated with a combination of powerful ingredients, including aloe vera, French silk peptides, pitaya, hyaluronic acid, and cucumber, this brightening beauty-boosting, resurfacing treatment is deeply hydrating, calming and soothing while also actively resurfacing and refining the texture of your skin and minimizing the appearance of fine lines, wrinkles, and pores.
Ideal for those with fine lines and hyperpigmentation.
Sleep Ritual: Apply a thin layer to the face and neck after cleansing. Allow to dry before bed. In the morning, rinse with cool water and follow with your favorite hydrating products!
This cult-favorite "photoshop in a jar" treatment is one of those masks that gets better the longer you leave it on. With its cooling cream texture and signature Valmont scent, this dreamy mask blurs the skin and leaves a glow that lasts long after rinsing it off.
Formulated with Valmont's Triple DNA complex, retaining 10,000 its weight in water for instant plumping. A powerful peptide complex renews the complexion and erases fine lines in a pinch.
Ideal for all skin types. Perfect when you need to apply makeup flawlessly in the AM!
Sleep Ritual: After cleansing and applying your nightly serums and creams, use Prime Renewing Pack as a leave on treatment. Rinse away in the morning to reveal brighter skin with blurred imperfections for a seamless makeup application.
Imagine waking up with soft, cushiony skin - like a newborn baby. Biologique Recherche's famous Creme Masque Vernix is a healing, soothing balm designed to mimic the protective vernix layer that babies are born with. This thick coating is rich in essential fatty acids and is mother nature's ideal moisturizer.
This creamy balm is ultra-soothing and acts like a waterproof barrier that seals in all of your hydrating skincare products for enhanced penetration. Used as the last step in your skincare routine, this banana-scented miracle worker is ideal for dry, damaged skin. Creme Masque Vernix is a must-have for those who have over-exfoliated or who use strong acne treatments to keep the skin barrier healthy.
Sleep Ritual: After your complete skincare routine, warm a small amount of Creme Masque Vernix between your fingertips and apply a thin layer evenly over the face, neck and around the eyes. For especially dry, damaged skin, a morning cleanse might not be necessary. Listen to your skin instant.
5. Supperclub Skincare Sabzi Oil
If you need to look like you eat your greens when you've really been over-indulging all week long, look no further than Supperclub Skincare's nutrient-rich Sabzi Oil.
This serum-oil is uniquely formulated to be 100% active - it is truly unlike any facial oil you may have tried! Made with the purest unrefined cold-pressed seed oils and high potency botanical extracts, this oil is equivalent to a perfect diet rich in antioxidants and phyto-compounds. Give your skin it's necessary nutrients while you sleep!
Use this blend of carefully curated ingredients to see brighter, clearer, calmer, and more nourished skin. Sabzi will also work to even skin tone, protect the skin against environmental stress and fight blemishes.
Sleep Ritual: Skincare oils are best used alone or mixed in with your moisturizer. After cleansing the skin and applying your water-based serums, apply a few drops of Sabzi evenly over the skin or mixed in with your favorite cream. Indulge your skin in this restorative formula and wake up with a beautiful, healthy complexion.
You can learn more with Flawless by Melissa Fox. 
---