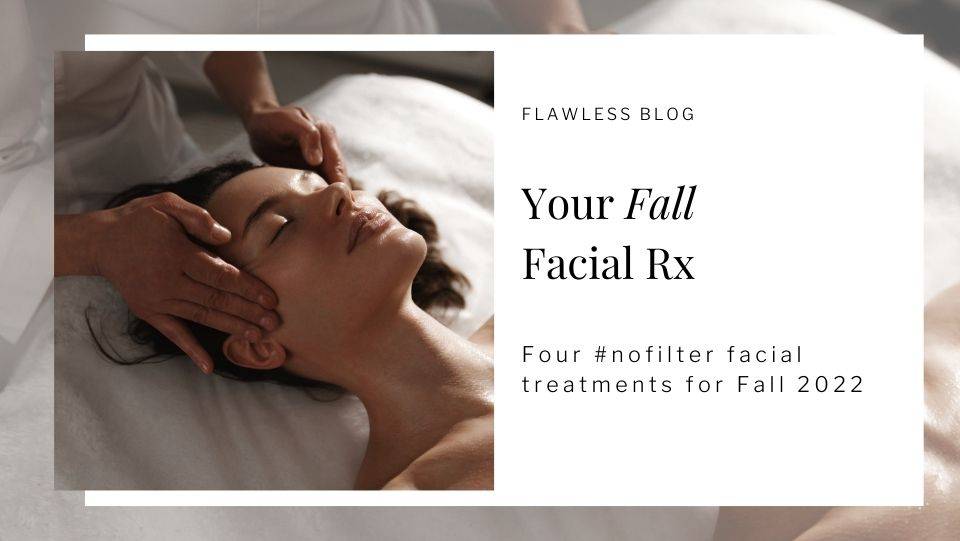 WHY YOU NEED EYE CREAM. HOW TO NOT LOOK TIRED HOW TO USE EYE CREAM. FLAWLESS BLOG. MELISSA FOX   BEST EYE CREAM
With "no-makeup" makeup trending this season, it's no secret that flawless skin is the ultimate accessory this Fall. But if your skin is lacking in natural luminosity and a smooth texture, your super-model makeup endeavors may be in vain.
The right Fall Facial Treatments can make all the difference when your goal is to need less makeup overall and feel confident in your skin. With the latest facial technology, it is possible to transform your skin texture with little to no downtime.
Here are our Top 4 Fall Facial Treatments to achieve flawless #nofilter skin:
This season's top of the line innovative facial is our Flawless IonixLight Facial. Our most advanced treatment with zero downtime combines Microcurrents, Oxygen Therapy, Biosonix Ultrasound, Radio Frequency and an LED panel with Ionized Oxygen technology. IonixLight is highly targeted to increase cellular activity and stimulate collagen production, dramatically reducing lines, wrinkles, hyperpigmentation, and post-acne scars.
Celebrity aesthetician and Flawless founder Melissa Fox uses IonixLight for her ultimate Red Carpet facial: "The tightening and glow you get with this machine is truly unparalleled. And the best part is there is zero downtime, so you can go straight from your facial to your event."
During this 75 minute treatment, your Flawless aesthetician will cycle through the various modalities with lifting motions to contour the face and tone the skin. Each modality is as soothing as it is effective and you should feel no discomfort, only relaxtion. The treatment is topped off with the IonixLight LED panel that mists Ionized Oxygen onto the skin while cycling through LED light colors for a zen, glow-boosting grande finale.
Lines and wrinkles, sun damage, deep acne scars, enlarged pores- these conditions were previously the territory of painful dermatological laser treatments that will have you hiding from the sun for 7-10 days. However, certain climates and lifestyles simply aren't conducive to intensive laser treatments that require downtime.
Enter our Flawless Microneedling Facial. Our unique protocol has revolutionized the game for erasing acne scars, shrinking pore size and smoothing over wrinkles and pigmentation with minimal downtime. With results that rival the most advanced laser technology, you can achieve beautiful results with minimal downtime - just 24 hours of mild facial redness and sensitivity.
Featuring Procell Therapies Microchanneling Device, we offer a 'stamping' microneedle treatment that does not cause microscopic tears or cuts in the skin. This ensures the needles pierce the skin straight up and down, unlike popular derma pens and rollers that drag and cut the surface of the skin, leading to more downtime and an uneven result.
Combined with Growth Factors and LED for enhanced collagen production, Microneedling results peak after two weeks, leaving you with the ultimate #nofilter smooth skin.
For the ultimate glass skin finish, Jet Peel is your go-to fall facial treatment. This high-tech glow facial infuses targeted serums into the skin at 450mph with a super sonic jet. The intense jet stimulation opens up micro channels within the skin that allow collagen boosting serums to travel into the deeper skin layers without any needles, pain or skin breakage.
During the JetPeel treatment, your Flawless aesthetician will analyze your skin and select a targeted serum based on your unique concerns to infuse into the skin: hyaluronic acid for plumping, growth factor for collagen stimulation, and vitamin C for brightening, just to name a few.
This treatment is topped off with red LED light therapy to enhance product penetration and seal in the ultimate glass skin glow with zero downtime.
Perhaps our most unique Fall Facial Treatment is Pietro Simone's innovative Cotton Thread Peel. This skin resurfacing treatment consists of Pietro's unique "Signature Organic-Cotton Thread" method combined with his high-performance exfoliating peel. The result? The most luxurious, cashmere-smooth skin of your life!
The Cotton Thread Exfoliation is an exclusive technique developed by Pietro Simone, based on a family secret taught by his grandmother. The benefits of this exfoliating ritual with lymphatic drainage reveal velvety smooth, radiant and supple skin. The result is that skin is sculpted, lifted, and re-oxygenated. Previously only available at Pietro Simone's flagship in London, Flawless by Melissa Fox is thrilled to offer this treatment for our clients in Miami.
---