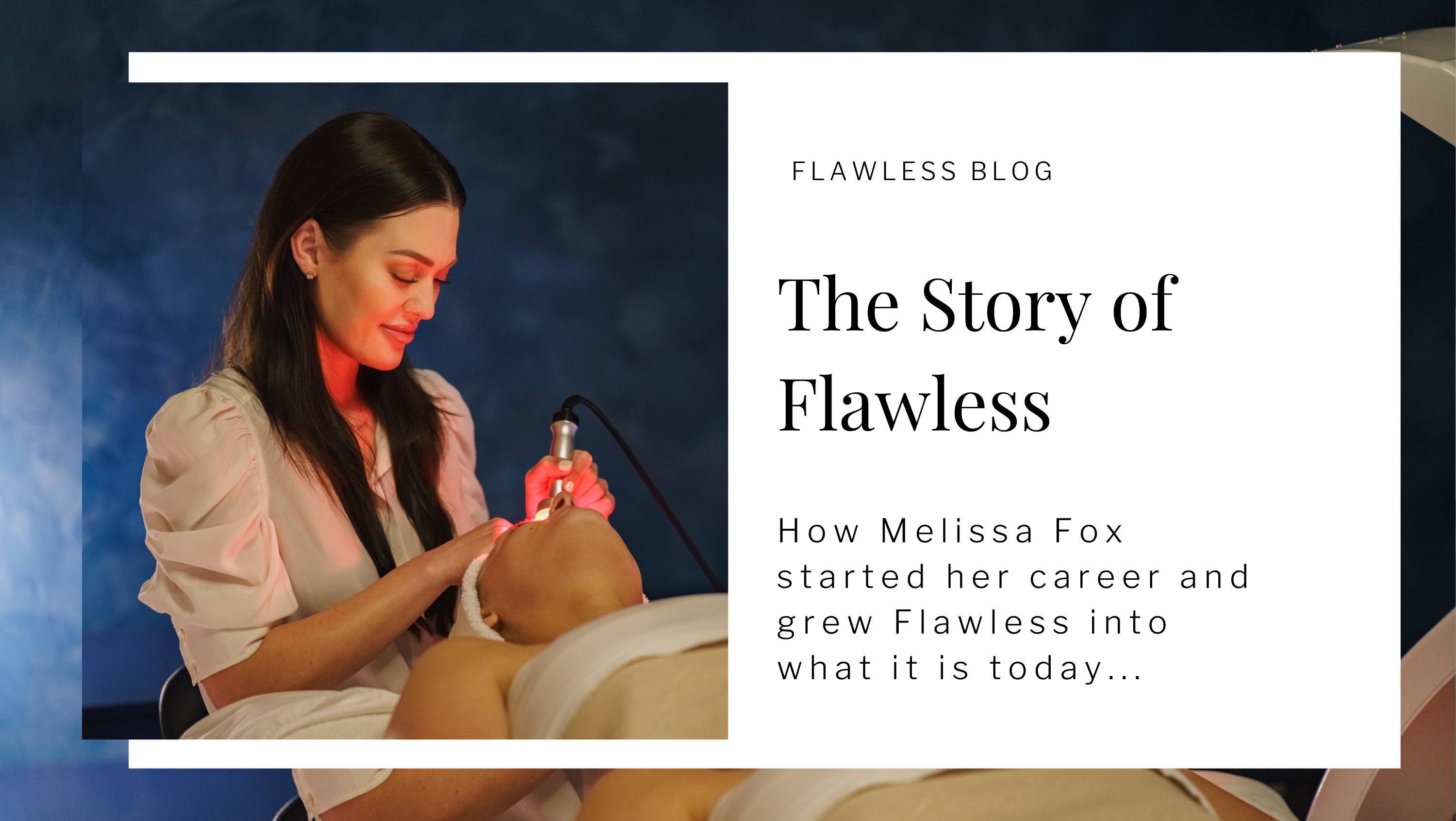 WHY YOU NEED EYE CREAM. HOW TO NOT LOOK TIRED HOW TO USE EYE CREAM. FLAWLESS BLOG. MELISSA FOX   BEST EYE CREAM
Celebrity esthetician Melissa Fox has made a name for herself nationally in the skincare industry. From consulting for major skincare brands, to serving a host of celebrity and VIP clientele, to recently winning the Dr. Philip Allouche Award for Excellence from Biologique Recherche, it seems as though Melissa's trajectory has always been shooting straight up. But how did it all begin?
Melissa Fox had her first acne facial when she was fifteen years old. "I came home and I told my mom that's what I wanted to do. To which my mother replied, 'That's not a career, honey.'"
Fast forward through one quick semester of college to appease her mom and Melissa Fox set her eyes on esthetics school. She enrolled in one of the best internationally certified CIDESCO esthetics schools in the country and there was no looking back. After two years of schooling and rigorous European facial training, Melissa Fox graduated with her license.
The Day Everything Changed
Melissa Fox and her husband Chad relocated to Miami for her husband's job. "I'll never forget, we were dirt poor. I had five jobs working in esthetics. I worked in residences, hotels, I worked mobile, I even did nails!" she laughs as she recounts.
The stars were set to align for Fox in 2012 when she answered an anonymous ad on Craigslist for a licensed esthetician for an unnamed medical spa. She was called in for an interview and sitting across the table from Melissa was none other than world famous dermatologist Dr. Fredric Brandt. "I knew right then that my life was about to change," says Fox.
After just 6 months at Dr. Brandts office, Melissa had built a steady clientele. Her talent and magnetic energy were undeniable.
In the 3 years Melissa worked under Dr. Brandt, she absorbed every bit of knowledge she could from the internationally renowned cosmetic dermatologist, until his tragic passing in 2015. Dr. Brandt committed suicide in his Miami home.
 Melissa stayed at Dr. Brandt;s office for some time after his passing, but it wasn't the same. "My husband could tell how miserable I was. I was depressed, I was worried. It was a heavy time" Fox recalls. "I was so nervous about my future."
A Risk Worth Taking
It was Melissa's husband Chad who one night brought up the idea to invest their entire life savings into Melissa Fox's own facial business. Melissa remembers, "I was in shock because I had never thought about owning my own business. I always thought I would work for Dr. Brandt. But I knew it was a great idea…except we didn't have much in our life savings!" Melissa laughs.
A much appreciated loan from her mother and a few months later, Melissa Fox opened her facial suite in Coral Gables in 2016, and Flawless was born. "I'll never forget on my first day I made $1,000 and I knew I had made the right decision. From that day on forward, I threw myself completely into my business and my clients." Some of Melissa's earliest clients remember her mailing handwritten notes to their houses to check on the progress of their skin and to secure a rebooking. Her dedication to her clients and to building a successful business was bar none.
"Three months into being a solo business owner, we went to a Michigan game and I got pregnant. Go blue!" Melissa laughs. "My husband and I had been together for 15 years and had been trying for a while to get pregnant and I feel like letting go and being free and going out on my own was just what we needed to make this dream come true," says Fox.
 It wasn't until she was 7 months pregnant that Melissa realized she needed to bring on another esthetician to take care of her clients while she was on maternity leave. Having had nothing short of miraculous luck with Craigslist in the past, Melissa put out an anonymous ad and hoped for the best.
And Then There Were Two
Her only applicant was Marissa Roque, and she wasn't even in Miami - she was in New York. "I called her up, we talked on the phone and it was an instant connection," Fox remembers. Marissa relocated to Miami and covered Fox's maternity leave and her clients loved her. When Melissa came back from leave after having baby Ace, she rented a second facial suite and Marissa became the first employee of Flawless by Melissa Fox.  
Nervous to take on more space, Melissa opted to share the second suite with Miami celebrity spray tan artist Mel Valenzual of Best Miami Tan. "Looking back," Melissa says, "that was stupid because we outgrew the suites within 3 months." Valenzuela, who is now Flawless' Spa Director, and her real estate agent husband Alex set out to help Melissa find the perfect location to expand her business.
After seeing a few places in Coral Gables, nothing felt right. Melissa remembers "Alex finally took us to one place that had just come on the market that day. I had barely stepped through the door when I had this instant rush and it was like a voice screaming at me 'If you do not take this, you will regret it.'"  
The Next Chapter
In February of 2019, Melissa took over 470 Biltmore Way and an intense 8 week build-out commenced. Flawless by Melissa Fox opened its doors in May 2019.
Not even a year into having her beautiful new space for just herself and Marissa came the COVID-19 pandemic. "I was terrified. I had this big space, I had rent to pay and we had to close down." While most small businesses were facing immense troubles during COVID, Flawless saw just the opposite. "I hate to say it," says Fox, "but COVID is really what made us grow. Women were craving that support for their skin. Everyone was stuck at home and had nothing else better to do than to look in the mirror."
The pandemic brought its own unique skincare problems like the rise of "maskne." Melissa and Marissa found themselves messaging constantly with clients, doing virtual consultations and staying up till the early morning hours packing orders. "Marissa and I would stay up until 3 o'clock in the morning messaging clients in Los Angeles who needed help with their skin so we could catch them after they put their kids to bed. And then we would be back here at 8am packing up orders. Our business really exploded during the pandemic because we were giving women that individualized, undivided attention to their skin," Fox recalls.
With this immense growth during lockdown, Melissa was ready to hire more team members the second their doors reopened, "I took on my sweet Cristina and Denise, and then we brought on Julia and from there it just continued to grow. We've just had this amazing organic growth and I feel so blessed every day."  
The Flawless Way
 "I think a lot of the reason for my success with my staff is that I treat them how I would want to be treated," says Fox. "It's hard work being an esthetician, it's hard work being fully booked and all the customer service that we offer here at Flawless and how we kick it up a notch."
When asked what is one common thread that has been in the weave since she first opened her suite in 2016, Melissa answers "What's really important to me is that everyone leaves looking Flawless. You should always leave a facial better than how you walked in. And my girls know that is the number one thing here at Flawless. And I'm so blessed to have such an amazing team that leaves their clients so happy and glowing every single day."
 When it comes to Fox's curated selection of skincare brands now stocked at Flawless by Melissa Fox, both in-store and in their growing online boutique, one iconic brand stands out amongst the rest - Biologique Recherche.
"In 2019, I started to fall in love with European skincare brands. With the quality of the formulations and increased restrictions in Europe as far as ingredient standards, I was really impressed with what I was seeing." Fox says, "One day, I saw a client who I hadn't seen in a while and her skin looked incredible. I asked her what she was using and she introduced me to Biologique Recherche." When Melissa brought on the brand in 2019, she was the only esthetician-owned business to carry the line in Miami. Fast-forward to 2023 and Melissa Fox is now one of the leading Biologique Recherche stockists and winner of the 2023 Dr. Philip Allouche Award for expertise and excellence across all Biologique facial treatments and products.
Today, Flawless by Melissa Fox is the leading facial spa in Miami, with a luxury meets high-tech philosophy for results-based facial treatments. Melissa has expanded her space at 470 Biltmore Way, now occupying the entire first floor of the building, with 7 estheticians, a massage therapist, 4 retail and customer service experts and continues to grow her business both in-spa and with her online store. Melissa continues to see her regular clientele consisting of celebrities, endless CEOs and Miami's elite in her newly renovated private suite.
When looking towards the future, Melissa feels most excited to watch the personal growth of her team, "I am so lucky to have the most amazing team. It's so rewarding to watch them all start families of their own now and grow their clientele. We are all so in love with Flawless and it's a joy to come to work and see our clients every day."
---