The Regimen: Your Fall Skincare 2023 Guide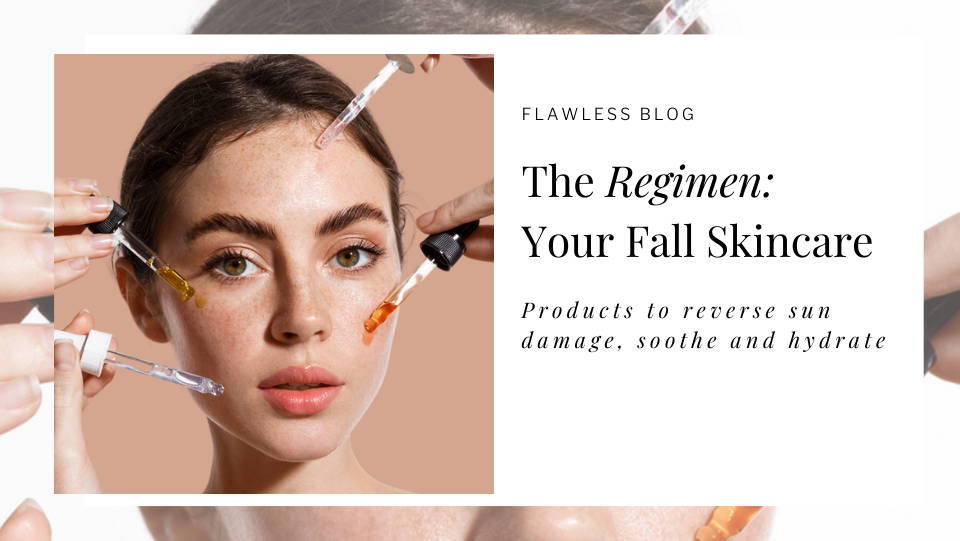 WHY YOU NEED EYE CREAM. HOW TO NOT LOOK TIRED HOW TO USE EYE CREAM. FLAWLESS BLOG. MELISSA FOX   BEST EYE CREAM
Updated: November 2, 2023
The end of summer is bittersweet for most. Sunburns fade and relaxing beach vacations already seem like a distant memory. And while a great tan is the hallmark of a summer well-spent, your skin may be feeling neglected once fall rolls around.
Just as you update your wardrobe as the seasons change, putting away the bikinis and breaking out the sweaters, your skincare routine should evolve with the changing weather as well.
Here are our top Flawless Picks for the perfect Fall Skincare Routine:
An effective skincare routine must always start with a thorough cleanse. Sunscreen, makeup and pollution from airplanes and travel can clog pores, cause irritation and make the skin look dull and tired. Proper cleansing is more than just a one-step process. Fox recommends a Triple Cleanse to ensure every trace of impurity is removed.
Start with an oil-based cleanser or micellar water to remove face and eye makeup. Once massaged into the skin with water, these makeup removing cleansers melt away oily sunscreen and foundation and wash it away down the drain as you rinse.
Melissa Fox's must-have cleanser for fall is MBR's Enzyme Cleansing Booster. Unlike most gel or cream cleansers, this powder cleanser can be mixed with water in the palm of your hand to create a rich lather that gently exfoliates away dead skin and blackheads.
Formulated with enzymes, this cleanser dissolves the sticky glue between dead skin cells for a deep cleanse that gently rids excess oil without over-stripping the skin. Amino acids and caffeine awaken the complexion while kaolin clay and aloe vera soothe irritated post-vacation skin, making this cleanser ideal for the change of seasons.
Follow with a hydrating milky cleanser for the perfect canvas that will allow the rest of your products to penetrate the skin and get to work.
Oil-production is in over-drive during the sweaty summer months, leaving the skin feeling built-up with dead skin and congested pores. Heading into Fall, proper exfoliation is essential to renew the skin, break-down pigmentation and sun damaged skin cells and encourage proper skin turn over.
Salicylic acid-based exfoliants are perfect for breaking up oil and clogged pores. For daily use, Fox recommends IS Clinical Active Serum: "This lightweight serum contains willow bark, a naturally occurring salicylic acid that is both gentle and effective. It's cooling and tingly on the skin and is great for most skin types."
Leave on exfoliants like Active Serum should be applied after cleansing, daily or every other day.
For an extra exfoliating boost, opt for a weekly mask such as MBR's Beta-Enzyme. This gel exfoliant contains a combination of mild hydroxy acids and a papain enzyme complex for effective exfoliation. Fortified with allantoin and provitamin B5 for soothing hydration, this chemical exfoliant leaves the skin feeling balanced, rather than dry and tight.
Hydroxy acid-based exfoliants like Active Serum and Beta-Enzyme are best used at night. Be sure to use only one exfoliant at a time to avoid damaging the skin barrier, leading to flaky and irritated skin. Always use SPF during the day when incorporating exfoliants into your routine.
Even the most religious sunscreen wearers can't hide completely from the sun's damaging UVA and UVB rays. Sun exposure breaks down collagen and elastin fibers deep within the skin and causes pigmentation, dark spots and premature skin aging.
A Fall skincare routine would not be complete without a vitamin C serum to help reverse skin damage caused by the summer sun. This potent antioxidant has been proven to stimulate collagen production, brighten the skin tone and even help boost the effectiveness of your SPF.
While vitamin C is a must-have ingredient for the Fall, it can be irritating for sensitive skin types. Fox recommends a vitamin C serum for sensitive skin such as IS Clinical's Pro-Heal Serum. Featuring an advanced, stabilized form of L-Ascorbic Acid (vitamin C), combined with vitamins E and A, this powerful formulation significantly increases antioxidant protection while helping improve the appearance of compromised, blemish-prone, and aging skin.
"My favorite thing about this serum is that it includes Zinc," says Fox. Zinc has healing and anti-inflammatory properties, making this the ideal vitamin C serum for sensitive skin.
As the weather cools off, your skin will be craving extra hydration and moisture. Summer heat and sun can also make the skin feel like a dessert lacking in both moisture and hydration. To replenish the skin, it's essential to layer multiple products to ensure the skin is deeply hydrated from the inside-out and protected to prevent further water loss.
To rehydrate the skin, opt for a lightweight toner or serum with hyaluronic acid. We love Agent Nateur's holi(water) pearl and rose hyaluronic essence. This lush serum uses organic plant extracts, precious minerals, and natural acid to improve the skin's elasticity, tighten pores, and gently remove expired cells to reveal a hydrated, dewy glow.
After cleansing, spritz holi(water) 3 to 5 times in the palm of your hands and pat into skin.
It is essential to follow your hyaluronic acid serums with a moisturizer to lock in hydration. Otherwise, that moisture will evaporate from the skin, leaving you more dehydrated and parched than before.
A richer moisturizer is generally recommended for Fall. For those with acne-prone skin, Fox recommends Future5Elements Creme Éclair. This purifying, hydrating, and balancing cream is suitable for all skin types. Formulated with botanical extracts like brewer's yeast, coffee, honey, soy, and yogurt, this cream is rich in antioxidants, proteins, and natural moisturizing factors to protect the skin barrier.
The sensitive skin around the eyes requires extra TLC as the seasons change. Dry, cooler weather and increased allergens floating through the air can leave undereyes feeling dry, puffy and irritated.
For puffiness, opt for a lightweight under eye serum such as MBR's Cytoline Firming Concentrate. This fluid-like gel is a concentrated serum that noticeably tightens the under eyes almost instantly. Formulated with MBR's patented CytoLift technology, this eye concentrate uses a cross-linked matrix for an intensive mechanical lifting and firming effect that lasts all day.
Its powerful tightening action also acts like a compression for puffy under eyes, encouraging lymphatic drainage and relieving water retention.
For dry undereyes, our favorite eye cream is Valmont's Hydra3 Eye. This richly nourishing eye cream is a welcome oasis for flaky under eyes. With a Polymatrix DNA complex, its texture acts like an invisible patch that diffuses moisturizing power for 'round the clock hydration.
Celebrity aesthetician Melissa Fox recommends using your under eye creams in the morning, as too much moisture retention around the eyes at night can lead to increased puffiness the next morning.
Everyone loves a good face mask. They are a fun and relaxing way to enhance your skincare routine. But, don't underestimate the power that frequent facial masking can have on the overall health and look of your skin.
Melissa Fox recommends masking 2-3 times per week. Having a variety of face masks is essential to meet your skin's needs.
As the weather cools of and leaves the skin feeling a bit dry and tight, opt for a creamy, hydrating face mask such as Valmont's Prime Renewing Pack. This lightweight mask-cream is an instant makeover for the skin, smoothing fine lines, hydrating and leaving behind a dewy glow that lasts for hours.
Apply a thick layer evenly to clean skin and leave on for at least 15 minutes. Rinse with cool water and follow with your hydrating skincare routine.
Pro tip: Mix a small amount of Prime Renewing Pack with your night cream and wake up with a super model glow!
For sun damaged, stressed out skin, an oxygenating mask is essential. Biologique Recherche Mask VIP O2 is our go-to mask for post-travel. Masque VIP O2 neutralizes pollutants to prevent them from reaching the skin cells, and eliminates cellular waste built up by the oxidation of lipids and proteins. It also contains a moisturizing active ingredient that nourishes skin exposed to the atmospheric pollution of urban living.
"Your skincare routine should always include your neck and chest," says Fox. "The décolleté is often the first place to show signs of sun damage and we often forget to apply sunscreen down our necks," she adds.
A neck cream is essential to protect from dry, cool weather and address dehydration and sun damage that has accumulated over the summer.
Fox loves Valmont's V-Neck Cream. This rich cream combines ingredients from both Valmont's AWF5 lifting and firming lines to unite their youth-boosting powers into one targeted cream. V-Neck smoothes fine lines, plumps deeper folds in the neck and contours the jawline.
Neck cream should be applied with upwards motions evenly up the neck and chest, morning and evening.
If you have any more questions about Flawless by Melissa Fox, please Contact Us. 
---