Skincare for the neck and chest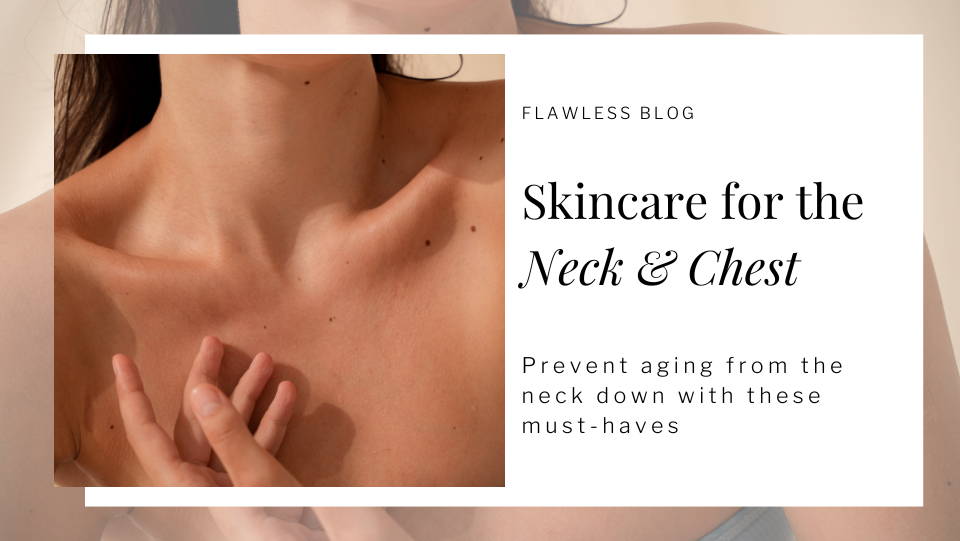 WHY YOU NEED EYE CREAM. HOW TO NOT LOOK TIRED HOW TO USE EYE CREAM. FLAWLESS BLOG. MELISSA FOX   BEST EYE CREAM
The neck and decollete are often ignored when it comes to skincare and suncare. Even the most diligent skincare enthusiasts will slather their face in the latest and greatest ingredients an stop just below the jaw. If you're not bringing your skincare down to your neck and chest, here's why you should be:
The skin on your neck has fewer oil glands, which makes it more prone to dryness and wrinkles. This thin skin is also more susceptible to sagging and developing deep creases, which can be very difficult to treat. In fact, the neck is often the first place on the body to show signs of aging. So if you're trying to preserve your 35 year-old face but your neck is clocking you at 40, its time to step up your skincare game.
Tech Neck - the first sign of lines & wrinkles
If you've ever spent more time than you want to admit looking down at your phone, perhaps Intagram stalking an ex, or going down the TIkTok rabbit hole, you've likely noticed a horizontal line across the middle of your neck once you look in the mirror. In the skincare world, we refer to this as "tech neck." It's a unique, 21st century problem that is the result of spending so much time looking down at screens.
The deep lines in the neck generally plump up and bounce right back, but as we get older, our collagen starts to diminish and these tech neck lines stay permanently displayed for the world to see.
Combat this first sign of aging on the neck with a dedicated hyaluronic acid based neck cream. Valmont's V-Neck Cream is formulated specifcally to re-plump deep lines on the neck. With it's Triple DNA hydration complex and Liposomal RNA for cell-boosting, this cream will redensify thinning skin on the neck that shows the first signs of aging.
Suitable for all skin types, we recommend anyone in their late 20's start incorporating this Flawless favorite Neck cream.
Sagging Skin on the Neck - time for a retinol boost

Loss of firmness in the skin on your neck can occur as early as your 30s. Fortunatley, all of the same great collagen-boosting ingredients you use on your face can be used on the neck. However, it is essential to choose gentle, hydrating formulations, as the skin on the neck is much more sensitive than that of the face.
Retinol is a vitamin A derivative that has been shown to be effective in reducing fine lines and wrinkles, improving skin texture and tone, and boosting collagen production. For the neck, opt for a gentle, hydrating retinol serum like Alastin's Renewal Retinol 0.25. Enriched with soothing oat extract and Silver Ear Mushroom, this serum delivers a powerful anti-aging result without any irritation, dryness or unwanted sensitivity. The skin on the neck feels nourished and firm.
Sun Spots & Melasma - brightening skincare for the neck & chest

Bringing your SPF all the way down to your neck and chest is absolutely essential for preventing premature aging. Our neck is equally exposed to pollution, UV rays and free radicals and with its much thinner skin composition, is even more prone to damage.
If too much fun in the sun has left your neck looking splotchy with patches of pigmentation, opt for a brightening serum infused with anti-aging benefits and hydrating ingredients. We love Vivant's FF3 Biopeptide AHA Serum. Formulated with just enough alpha-hydroxy acids to gently exfoliate and brighten, the serum noticeably lifts pigmentation without irritation or being overly drying.
With neuropeptide technology and hyaluronic acid, this serum works double-time to plump fine lines and prevent sagging skin on the neck. We recommend using this serum in the evening, as it's mild exfoliating properties may be too much for day time on the delicate neck skin.
Lines and Wrinkles on the Chest - TLC for your decollete
Lines on our chest can develop while we sleep, and start to permanently etch themselves into our skin as we age. For side sleepers especially, vertical lines in the cleavage are a common complaint. Using a dedicated cream for this area is essential, as well as trying to sleep on your back.
At Flawless, our favorite Neck & Chest cream is MBR's Cell Power Neck & Decolette Cream. A rich, intensely nourishing cream with a rejuvenating effect on the stem cells, this cream delivers improved microcirculation that enables the regeneration process. Cell-Power Neck & Decolleté Cream protects the skin against premature aging, such as UV ray induced damage, and deeply hydrates the skin, increases the ability to retain moisture and improve the skin's surface structure noticeably. The delicate skin of the neck and décolleté feels immediately firmed, smooth and supple.
This cream can be applied in the evenings before bed to help smooth unwanted lines, as well as in the mornings to plump sleep-related indents in the skin.
---