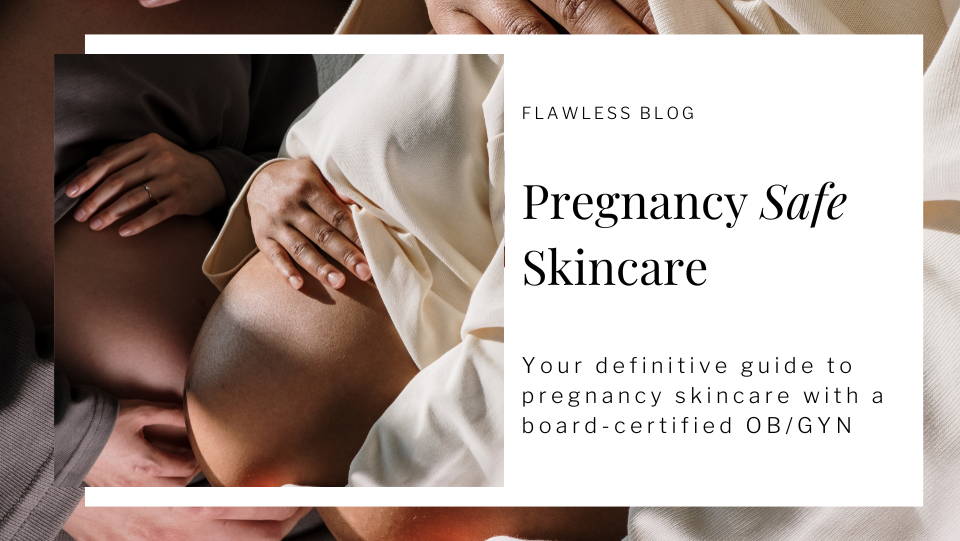 WHY YOU NEED EYE CREAM. HOW TO NOT LOOK TIRED HOW TO USE EYE CREAM. FLAWLESS BLOG. MELISSA FOX   BEST EYE CREAM
Disclaimer: This article is written in accordance with the American Academy of Dermatology and American College of Obstetrics and Gynecology guidelines. This article is not meant to treat or diagnose any medical conditions. Always consult with your doctor before using any products during pregnancy or breastfeeding.
We've all heard of the "pregnancy glow." That magical, etherial veil that is supposed to fall over us when we become pregnant, blurring imperfections, plumping our skin and giving us an aura of motherhood. 
In reality, pregnancy can cause many unwanted skin changes like acne, melasma, dermatitis and irritation. Miami-based Board Certified OB/GYN Dr. Victoria Lopez-Beecham explains, "Hormone surges during pregnancy can cause all kinds of skin changes. Acne and melasma are very common among pregnant women." She adds that, "While these conditions usually resolve on their own after pregnancy, there are many safe treatment options that can help during pregnancy." 
When your first priority is now the healthy development of your new bundle of joy, it's common to become nervous when searching for skincare products to help you feel like yourself again without causing any harm to your baby. Many new mothers attempt to go "all-natural," opting for "clean beauty" and "non-toxic" alternatives. And while these products are likely to do no harm to your pregnancy, they are usually not strong enough to treat acne, melasma or other skin conditions that can really put a damper on your happy time of growing a child. 
Dr. Lopez-Beecham explains, "Our skin does a pretty good job of serving as a protective barrier to a developing baby. Only small amounts of topical skincare products are likely to absorb through the skin and most common acne medications have not been shown to cause harm to a developing baby."
In this article, we are setting the record straight on what skincare ingredients to avoid and which you can use confidently throughout your pregnancy to help you feel your best so you can be a happy home for that little munchkin in your belly!
Retinol, Retinoids and Retin-A
Let's start with the big no-no: retinol. Any form of retinol, retinoid, retin-A, tretinoin or adapalene, whether over the counter or prescription, should be avoided during pregnancy. 
Why?
Dr. Lopez-Beecham explains, "It is generally recommended to avoid prescription and OTC retinols and retinoids during pregnancy. Retinoids, when taken by mouth (Accutane), are known to cause birth defects. Studies have shown that only small amounts of topically applied retinoids are absorbed through the skin and that those who use topical tretinoin during pregnancy did not have an increased chance for birth defects. However, due to the theoretical concerns and the availability of other topical acne products, topical retinoid use is discouraged during pregnancy."
Salicylic Acid is a popular acne fighting ingredient and is found in many of your favorite cleansers. This ingredient is safe according to the American College of Obstetrics and Gynecology and the American Academy of Dermatology.
Salicylic Acid is derived from Aspirin, which when taken orally in very high ammounts can increase risk in pregnancy. However, Dr. Lopez-Beecham clarifies, "Low dose aspirin has been well studied in pregnancy and does not increase the chance of birth defects or other complications. When you apply Salicylic Acid topically to the skin, the ammount that enters the body would be much less than when a woman takes low dose aspirin. For this reason, it is unlikely that topical Salicylic Acid would pose any risk to a developing baby." She adds, "I recommend Salicylic Acid cleansers to all my patients, pregant or not, to help with bouts of acne."
Both the American College of Obstetrics and Gynecology and the American Academy of Dermatology deem Benzoyl Peroxide safe for use during pregnancy in limited amounts. 
We recommend using 2.5% benzoyl peroxide as a spot treatment when needed. While 10% Benzoyl Peroxide has not been shown to cause any harm during pregnancy, we generally recommend avoiding such a high concentration, as it can be overly irritating.
Mandelic Acid is our go-to acne and pigmentation fighter for pregnant clients at Flawless by Melissa Fox. It is completely safe, even in higher concentrations, and can be used at home and as an in-office peel for stronger treatments.
"Melasma, sometimes calld "the pregnancy mustache," is a very common skin concern during pregnancy. Unwanted dark patches and brown spots can show up out of nowhere. Safe skincare treaments such as Mandelic Acid are a great solution to both prevent and treat pregnancy-related melasma," adds Dr. Lopez-Beecham.
Did you know that blue LED light is used in hospitals to treat newborns with jaundice? 
Both red and blue LED light therapy are safe during pregnancy and can be a huge help for pregnant women dealing with acne, dermatitis and hyperpigmentation. We use Celluma Light Therapy in our office to help give that oh-so-elusive pregnancy glow!
"I use my CellumaPro LED light therapy mask at home, and lent it to my daughter when she was pregnant to help with some breakouts she was experiencing during her first trimester," says Dr. Lopez-Beecham
Biologique Recherche's Lotion P50 toners are generally safe for use during pregnancy, except for P50 1970 and P50 V 1970. These formulas include phenol, which is unsafe for expectant mothers. If you regularly use one of these formulas, switch to Lotion P50 for a similarly effective treatment without the phenol.
Over the counter concentrations of glycolic acid are safe to use during pregnancy. This ingredient can help with pregnancy related melasma and hyperpigmentation. 
All forms of vitamin C are safe to use during pregnancy and can help prevent and treat hormonal melasma and hyperpigmentation.
Both the American College of Obstetrics and Gynecology and the American Academy of Dermatology give the all clear for use of both chemical and mineral sunscreens during pregnancy.
Sun protection is extremely important during pregnancy, as you are at a higher risk for hyperpigmentation. Of course, protecting your skin from sunburns and skin cancer is extra important during pregnancy as well.
Here at Flawless by Melissa Fox, we offer a huge variety of pregnancy safe skincare treatments. As most of our in-office facials are absolutely safe, we'll list here the ones that are not performed on pregnant clients in an abundance of caution:
Remodeling Face Lift and IonixLight: These treatments use microcurrents and high-frequency, which while have not been proven to cause any issues for pregnancy, we avoid in an abundance of caution.
High Frequency: Post extraction, we'll skip the high frequency device for pregnant clients.
Chemical Peels: Some of our chemical peels contain high concentrations of active ingredients that we do not use on pregnant clients. We offer many pregnancy safe peels that your esthetician will recommend if you are a good candidate.
Microneedling: While there are no unsafe ingredients or machines used in our Microneedling facial, this treatment does pose some unecessary risk to pregnant clients because of the use of needles. We generally do not perform microneedling on pregnant clients, however, speak with your doctor for the all-clear if you have your heart set on microneedling.
Our Favorite Pregnancy Safe Skincare
---