Melissa Fox's Triple Cleanse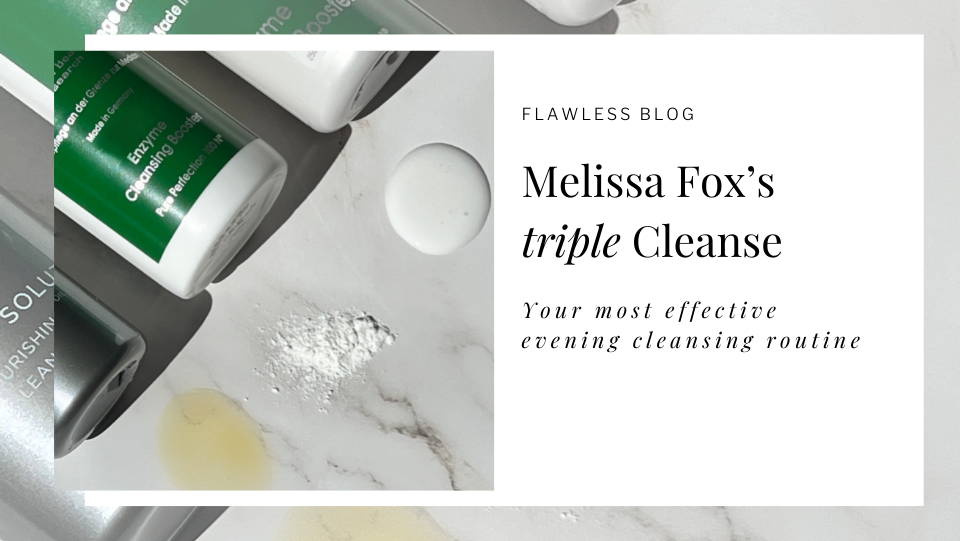 WHY YOU NEED EYE CREAM. HOW TO NOT LOOK TIRED HOW TO USE EYE CREAM. FLAWLESS BLOG. MELISSA FOX   BEST EYE CREAM
Double cleansing is not a new concept in the skincare world. This popular two-step cleansing technique involves using an oil-based cleanser or micellar water to remove makeup, followed by a gel or milky cleanser to clean the surface of the skin. Most skincare lovers are already well-versed on the double cleanse, but if you're still finding traces of makeup and SPF on your towel after washing your face, you may need to upgrade your cleansing routine...
"An effective cleanse is the most important part of your skincare ritual," says Melissa Fox, celebrity aesthetician and owner of Flawless by Melissa Fox. But, is a two-step process really enough? Fox would argue otherwise: "A thorough cleanse should do 3 things: remove makeup, clear pore clogging oils and dirt, and leave the skin feeling hydrated and prepped for skincare. There is not one cleanser on the market that fully removes even just SPF, let alone makeup."
Fox recommends a Triple Cleanse in the evenings to properly remove makeup, clear blocked pores, and rehydrate the skin.
Step 1: Cleansing Oil or Micellar Water to Remove Makeup + SPF
"Precleansing is the most important step of your evening routine," says Fox. Opt for an oil-based cleanser or micellar water as your first step to breakup makeup and SPF. "Even if you only wear SPF, you absolutely need to be precleansing," says Fox.
Oil cleansers are formulated around the concept that "like attracts like." An oil cleanser attracts the oil-based makeup, tinted sunscreen and waterproof SPF and removes them from the skin like a magnet. The emulsifers in the cleansing oil allow the day's dirt and grime to rinse clean down the drain with water, leaving your skin feeling fresh, never oily.
FOR SENSITIVE SKIN:
Step 2: Foaming or Gel Cleanser
Now that you've precleansed, you're left with skin that's free of makeup and SPF. But it doesn't stop there! "A foaming or gel cleanser will reach deeper into the pores now that makeup and waterproof SPF has been removed," says Fox. These cleansers contain mild exfoliating ingredients that breakup dead skin cells and remove excess oil and congestion.
Step 3: Milky Cleanser to Rehydrate and Rebalance
If you're already used to double-cleansing, this third step in Fox's Triple Cleanse will really take your evening skincare routine to the next level. This game-changing third step ensures that your skin never feels stripped with daily use of foaming or exfoliating cleansers.
"Finishing with a milky, hydrating cleanser immediatley after your exfoliating cleanser helps to rebalance the skin and replenish any hydration lost in the cleansing process," says Fox. "On their own, these milky cleansers can't breakup oil and makeup, but they are amazing for soothing the skin and making sure you never feel tight or dry."
FOR DULL SKIN:
---