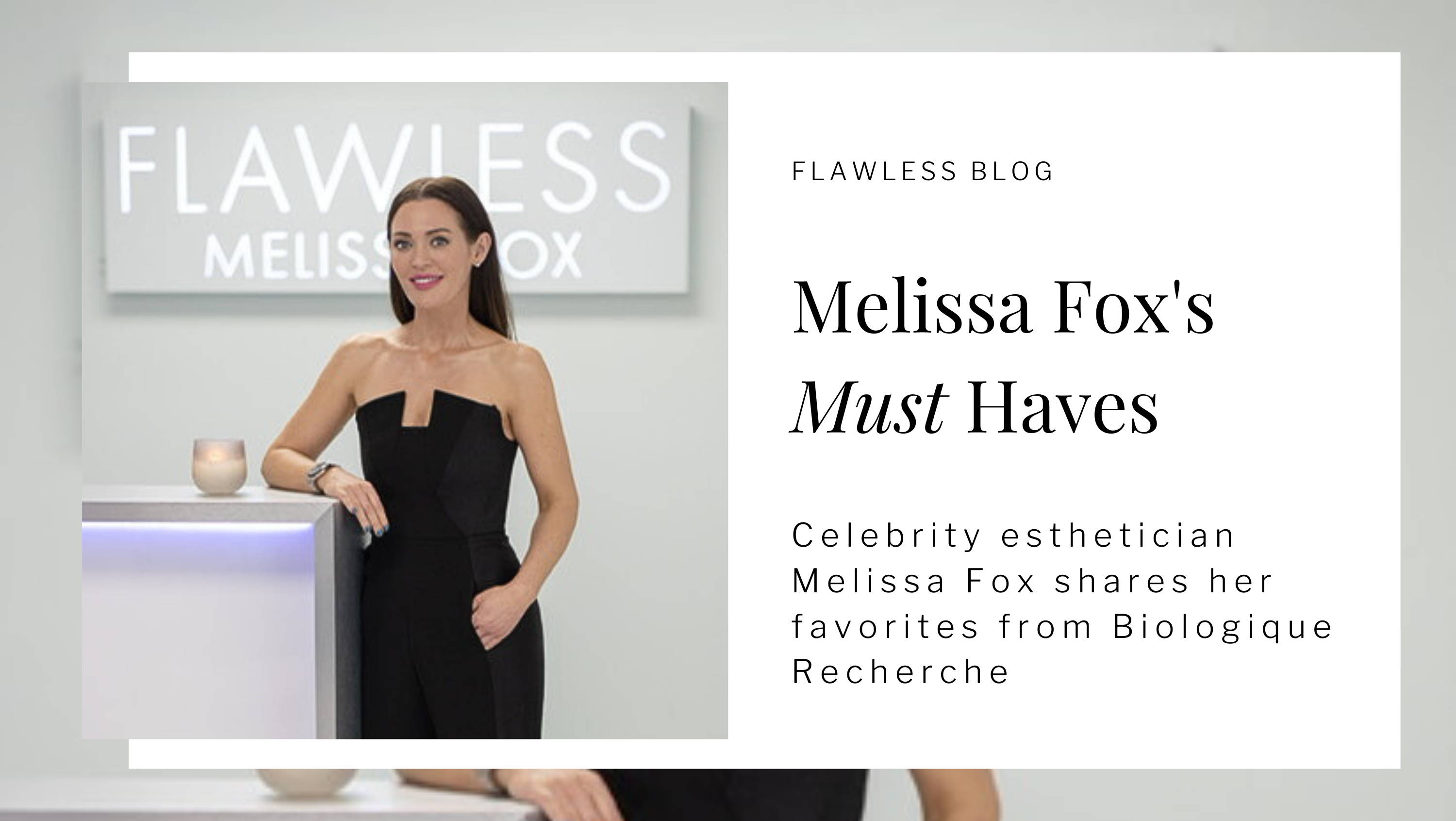 WHY YOU NEED EYE CREAM. HOW TO NOT LOOK TIRED HOW TO USE EYE CREAM. FLAWLESS BLOG. MELISSA FOX   BEST EYE CREAM
If you've ever dreamed of shopping a celebrity esthetician's skincare stash, today is your lucky day! Melissa Fox, facialist to Miami's celebrities and it-girls, is sharing her top favorite skincare products that she uses on her skin daily. From toners to serums and masks, Melissa Fox calls herself a "skincare maximalist." Let's dive in to her personal faves for maximum results!
"I'm all about super bright skin," says Melissa Fox, celebrity facialist and master esthetician. The Flawless founder is known for her porcelain-bright complexion and incredibly even skin tone. "If you want poreless, texture-free skin, you must use a toner," she insists.
Lotion P50 PIGM400 is a gentle daily toner with Mandelic Acid and Niacinamide to even the skin tone, balance oil production and smooth skin texture. "Lotion P50 PIGM400 is my favorite for daily toning. It tightens my pores, brightens my skin and preps for my serums," she says. "The best thing about this toner is that it's safe for all skin types. Whether you're dry, sensitive, oily or combo skin, you can use this everyday," she adds.
We're all born with pores, but that doesn't mean we have to accept our skincare fate! "This serum shrinks my pores almost instantly. It's truly magical," says Melissa Fox about Biologique Recherche's Serum Dermopore. "I use this before my tinted mineral SPF every day and it gives me the smoothest, most porcelain skin texture. It's a dream!"
Serum Dermopore is formulated to constrict the pore, making it perfect for those with dialated pores due to excess oil production or loss of elasticity. Melissa Fox adds, "For tiny looking pores, maintaining clear skin is essential. Make sure you are up-to-date on your facials, as this serum works best on clear pores that need to be tightened, rather than congested pores that need extractions."
Melissa Fox doesn't let the occasional breakout leave a permanent mark on her skin. "Serum ISO-Placenta is revolutionary for post-acne scars." Since being reformulated, ISO-Placenta now uses an ultra high-tech complex of growth factors that regenerate the skin, stimulating new skin cells to make their way to the surface, replacing damaged acne-scarred skin with smooth, flawless skin. "I was skeptical of the reformulation - we all were. But I have to say it's really just as effective, if not more so!"
If you want plump, dewy skin that bounces back at the slightest touch, Melissa's recommendation is always going to be Serum Elastine. "I go through so many of these serums, both at home and in my treatment room. It's loaded with hyaluronic acid and plumping ingredients. It seriously makes me and my clients GLOW!"
Serum Elastine has a beautifully lightweight consistency while still leaving behind a noticeable veil of hydration that lasts all day on both dry and oily skin types. This anti-aging serum plumps fine lines and wrinkles and smooths pores by encouraging collagen production to close dialted pores.
"This cream is like a cloud. I will never get over its whipped, airy texture!" says Fox about Biologique Recherche's Creme VIP O2. "It makes my skin look super bright and is incredibly lightweight and which is perfect for Miami."
This iconic day cream from Biologique Recherche is the ultimate lightweight, oxygenating, hydrating and brightening cream. Formulated with Biologique's signature Oxygenating Complex, this cream detoxifies pollution and environmental aggressors from the skin, leaving a glowing complexion. A must-have day cream for anyone who lives in a city.
"Creme Elastine is the best night cream for those who prefer something lightweight," says Fox. Creme Elastine is an anti-aging cream that targets fine lines and skin lacking in elasticity or bounce. This cream helps stimulate elastin production, a key skin protein responsible for giving skin its suppleness and shape.
Key ingredients include Elastin Segment to support elastin and visibly minimize the look of wrinkles; Centella Asiatica Extract for healthy cell functioning and regeneration; and Hyaluronic Acid to draw moisture to the surface of the skin and plump lines.
"Clients always think I'm kidding when I say I use this mask every single morning, but it's true! I cannot live without Biomagic Mask," says Melissa Fox. "It erases my pores, gives me the most porcelain skin texture and gets rid of any inflammation so my skin looks flawless all day long."
Biomagic Mask is a calming, soothing and detoxifying clay-based mask unlike any other clay mask you've tried before.  It tightens pores and absorbs excess oil while simultaneously nourishing and calming the skin for a potent anti-inflammatory effect. The skin is left perfectly balanced, never dry and tight. A must-have for sensitive and acne-prone skin.
"Masque VIP O2 is a cult-favorite for good reason," says Melissa Fox. "It instantly awakens my complexion. I use it whenever I haven't slept well or when I have an event that I need to look extra flawless for."
Masque VIP O2 is a brightening, oxygenating, anti-pollution mask that instantly awakens the skin and illuminates the complexion. A must-have for all skin types, this mask is great post-travel or night out when skin needs a pick me up. Works well under the eyes for dark circles.
Serum Oligo Proteines Marines + Serum Liposmose for Eyes
"If you're not using an under eye serum, you are missing out on products that actually get rid of dark circles and puffiness. If I had to get rid of all my eye creams, I would survive with these two serums!" says Fox of these two under eye serums from Biologique Recherche.
Serum Oligo-Proteines Marines is an anti-dark circle serum ideal for under the eyes and for energizing and depuffing the complexion. This serum increases circulation and detoxification under the eyes, clearing dark circles and tired looking eyes. Serum Liposmose is a depuffing eye serum that address all causes of under eye puffiness, including water retention, fatty desposits and poor circulation.
---