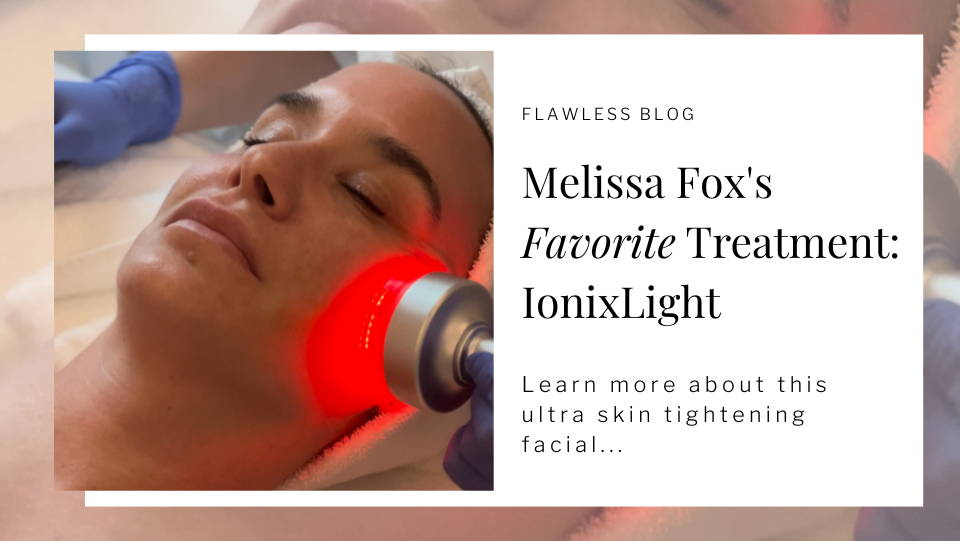 WHY YOU NEED EYE CREAM. HOW TO NOT LOOK TIRED HOW TO USE EYE CREAM. FLAWLESS BLOG. MELISSA FOX   BEST EYE CREAM
The IonixLight Facial Treatment is the most effective skin tightening, brightening and smoothing treatment available with zero downtime. This celebrity-favorite Red Carpet facial uses 8 technologies in one treatment to achieve wow results.
This Melissa Fox favorite combines Microdermabrasion, Negative Pressure, Microcurrents, Oxygen Therapy, BioSonix Ultrasound, Radio Frequency and an LED panel with Ionized Oxygen technology. IonixLight is highly targeted to increase cellular activity and stimulate collagen production, dramatically reducing lines, wrinkles, hyperpigmentation, and post-acne scars.
Celebrity aesthetician and Flawless founder Melissa Fox uses IonixLight for her ultimate Red Carpet facial: "The tightening and glow you get with this machine is truly unparalleled. And the best part is there is zero downtime, so you can go straight from your facial to your event."
During this 75 minute treatment, our Flawless aestheticians cycle through the various modalities with lifting motions to contour the face and tone the skin. The treatment is topped off with the IonixLight LED panel that mists Ionized Oxygen onto the skin while cycling through LED light colors for a relaxing, glow-boosting grande finale. 
1. Diamond Microdermabrasion
The treatment begins with a deep cleansing massage followed by a Diamond Microdermabrasion. This gentle surface exfoliation gentle buffs away dead skin cells and smooths the surface of the skin, allowing treatment products to penetrate evenly and effectively into the skin. 
The IonixLight Microdermabrasion is gentle enough to use around the delicate eye areas for a wrinkle smoothing effect. 
2. Negative Pressure Therapy
The Ionix Negative Pressure uses gentle cooling suction to move excess lymphatic fluid away from the face. This is the first step of the sculpting process. Excess fluid retention causes facial contours to appear less sharp and chiseled. 
Once all puffiness is drained from the face, the Microcurrent and BioSonix Therapies can target the muscle and skin tissues more powerfully.
3. BioSonix Ultrasound Therapy
Ultrasound therapy, also known as ultherapy, improves the appearance of moderately loose or sagging skin by depositing focused ultrasound energy below the surface to stimulate the body's creation of new collagen, the natural protein that gives skin its youthful firmness and elasticity.
At Flawless by Melissa Fox, specialized serums are used during this portion of the treatment to address the client's specific skin concerns and penetrate active ingredients deep into the skin for immediate brightening, smoothing and plumping.
4. Microcurrent Muscle Tightening
After Ultrasound has targeted the skin, Microcurrent then targets the muscle. Gentle electrical currents and emitted into the skin to work the facial muscles. This is where the true sculpting art begins. Your esthetician will work your facial muscles into your desired lifted look for a zero-downtime facelift. 
Just like any workout, muscles will feel tightened and firm after just one treatment, but multiple treatments are recommended for long lasting results.
5. MyoSonix Combination Therapy
This combination therapy of Microcurrent and Ultrasound reinforce lifted muscles and tightened skin. 
The IonixLight treament is completely painless while the facial tissues and muscles are lifted and toned. 
6. Thermatone Radio Frequency
Radio Frequency is a popular treatment for shrinking fat cells and firming facial tissues. Mild heat is applied as radio frequency waves are directing deep into the layers of skin to tighten the jowls and double chin. 
A warming sensation can be felt depending on the intensity of the treatment. Radio frequency is an effective skin tightening and sculpting tool.
Oxygen Therapy is an essential step for sensitive or acne prone skin. Acne bacteria cannot live in the presence of oxygen, so this gentle and cooling treatment can shrink a breakout in an instant.
Cooling oxygen pushes serums deep into the skin to deliver the ultimate glow.
8. Multi-Colored LED Therapy with Negative Ions
In the last step of the treamtnet, Blue LED light effectively treats acne and inflammation while Yellow light encourage lymphatic drainage and increased circulation for a healthy glow and elimination of toxins. Red light stimulates collagen production and skin rejuvenation for ultimate anti-aging.
Negative ions are emitted through a gentle and relaxing mist that soothes the skin and aids in product penetration.  
The IonixLight Facial is recommended for clients looking to lift, sculpt and tone the skin. This treatment is deal the day of or day before a big event, as it has zero downtime and immediate lifting results. Learn more with Flawless by Melissa Fox. 
---