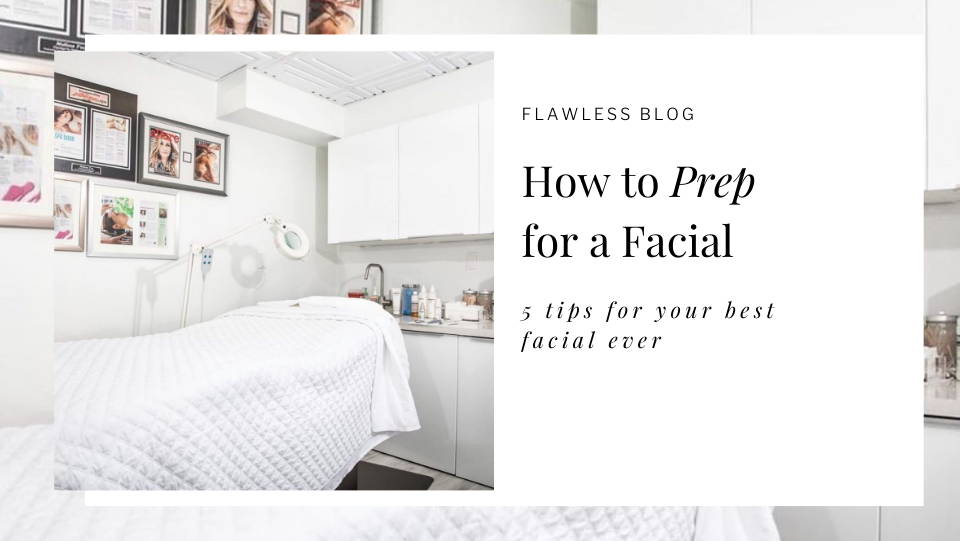 WHY YOU NEED EYE CREAM. HOW TO NOT LOOK TIRED HOW TO USE EYE CREAM. FLAWLESS BLOG. MELISSA FOX   BEST EYE CREAM
So, you finally got an appointment with your dream aesthetician. Your skin is in desperate need of some TLC and you're counting down the days until your facial.
Getting a facial is exciting, but it can be intimidating if you've never had one before or if you're not feeling so confident about your skin in its current state.
Will my aesthetician think my skin is bad?
Will I breakout after my facial?
Am I using the right products?
Is it going to be painful?
These questions may be running through your mind, but don't worry.  We've got your back (and your face)!
Here are 5 Tips for the Best Facial Results to ensure you have the most relaxing, enjoyable facial while still getting serious results for your dream skin!
Tip #1 Don't exfoliate before your facial
Avoid using any scrubs, exfoliating toners, retinols, chemical exfoliants or prescription acne medication for 1-2 days before your facial. Exfoliating thins the top layer of dead skin and can slightly weaken your skin barrier. Skipping the exfoliant before your facial will allow your skin some time to build up its strength before your appointment. This way, your aesthetician can perform a stronger exfoliation such as dermaplaning, microdermabrasion or a chemical peel during your facial that will give you the best results for smooth skin and a flawless glow!
Your aesthetician may also recommend waiting 1-2 days after your facial to exfoliate again, depending on the treatment performed. Always listen to her advice!
Tip #2 Hydrate from the inside-out 
Your aesthetician will most likely perform extractions during your facial. Hydration is key for quick and painless extractions! Drinking water beforehand helps to soften the clogs deep within your pores and will make for easier, more thorough extractions. Dehydrated skin holds on tightly to sebum plugs and blackheads, requiring your aesthetician to work harder to extract them. This is especially true for teens and younger clients!
Hydration is more than just skin deep! Apply an extra layer of moisturizer the night before your facial for total hydration from the inside out.
Tip #3 Don't pick your skin!
It can be tempting to pop, pick or squeeze especially if you're struggling with acne and are anxious for your first facial. But trust us - it's never a good idea! During a facial, your aesthetician will take time to prep the skin before extracting with steam and a deep cleanse. Next, she will gently and thoroughly ensure the clogged pore is extracted without tearing or damaging the skin. Finally, she will take time to calm the skin, reduce redness and inflammation, and kill any lingering acne bacteria to ensure you don't breakout post-facial.
Professional extractions are ultimately more gentle, more thorough, and ensure those pesky blemishes don't leave a scar or pop back up a day later.
Tip #4 Be prepared to discuss your current skincare routine
Your aesthetician will want to know what skincare products you're using at home. This is important information that tells her a lot about why your skin looks the way it does. Are you using an overly harsh cleanser that's causing surface dehydration? Are you using strong prescription medication for acne or rosacea that makes your skin more sensitive to certain treatments or ingredients?
Be open and honest with your aesthetician about your current routine. And don't worry if you feel totally lost when it comes to skincare products! Your facialist is there to guide you and point you in the right direction. After looking at your skin closely under the magnifying lamp and working with your skin during the facial, your aesthetician will make product recommendations that are catered to your specific skin concerns.
If you're struggling with acne and clogged pores, you may also want to make a list of your current makeup products so your aesthetician can point out any products that may be clogging your pores and recommend a better option.
Tip #5 Don't get sun before your facial
Avoid getting sun for 1-2 days before and after your facial. A sunburn can severely damage your skin barrier and your aesthetician will have to spend the full hour icing and hydrating your skin instead of getting to the root of your acne, pigmentation and other skin concerns.
---