Flawless Holiday Gift Guide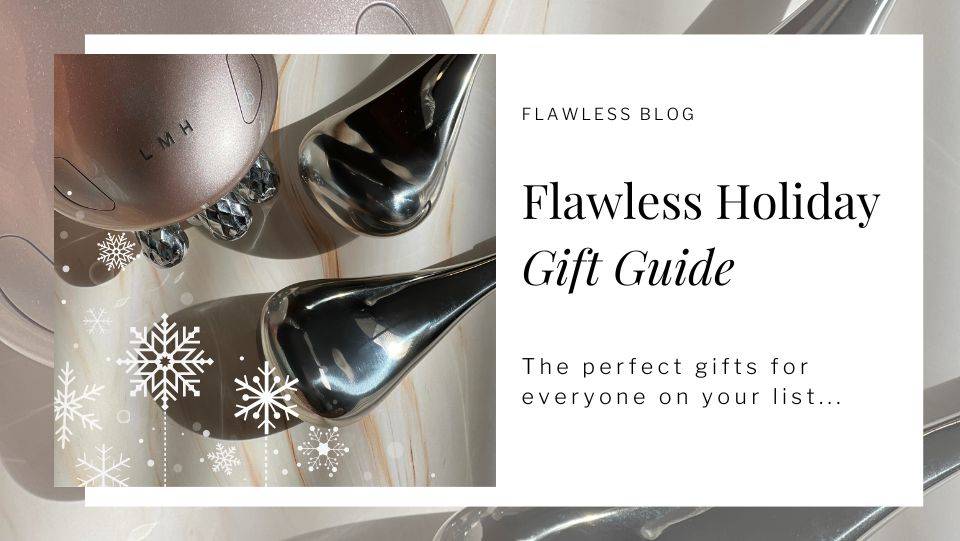 WHY YOU NEED EYE CREAM. HOW TO NOT LOOK TIRED HOW TO USE EYE CREAM. FLAWLESS BLOG. MELISSA FOX   BEST EYE CREAM
'Tis the season for spoiling your mom, your sister, your bestie (or yourself!) with gifts that are sure to make you even more #flawless in the New Year!
Choosing skincare and self-care products for your loved ones can be a tricky task, especially when it comes to specialized skincare that will suit their skin. But don't stress! We've put together the Ultimate Flawless Holiday Gift Guide that is sure to make those on your gift list glow this holiday season!
There's nothing a dedicated self-care queen loves more than an "everything" shower. You know, the one where you exfoliate, shave, use your most expensive hair mask and use up all the hot water.  
The skin on our body often gets overlooked when it comes to skincare. Dry, dehydrated and irritated skin is definitely not the vibe for 2023! It's time to step it up when it comes to body wash and lotion.
Agent Nateur's holi (wash) ageless resurfacing body cleanser and body (balm) ageless body treatment créme are the chic in-shower duo that should be on everyone's Christmas list.
This seductive body wash doubles as a natural exfoliant with the highest quality face-grade, anti-aging actives as well as skin restorative organic bioactives and moisturizing ingredients. The natural fragrance (made of essential oils, isolates and absolutes) is reminiscent of a seductive Arabian desert oasis. Sensual, majestic and mysterious, with notes of oud, sandalwood, rose, coconut and chamomile. It is beautifully woody, floral and warm.
Paired with the equally opulent body (balm), Agent's newest lifting and firming treatment creme that works to deeply hydrate, nourish, moisturize and deliver smooth and glowing skin day through night. The rich, dewy, serum-like texture of body (balm) melts onto your skin for ultra hydration and a sexy, satin glow.
With minimalist-chic packaging and a user-friendly pump, this duo will the crown-jewel of your shower.
Biologique Recherche is this year's "It Girl" skincare line. Well loved by celebrities and those who are in on the skincare secret, Biologique Recherche is a must-try for those looking to invest in quality skincare that yields results.
Invite your "It Girl" bestie into the world of BR with a perfect pairing - Cryo Sticks and Masque PIGM400.
The cult favorite Cryo Sticks are the ultimate cold shot for depuffing and toning the skin. These highest quality stainless steel globes cool instantly and stay cold throughout your at-home treatment session. A quick 5-minute pick-me-up with Cryo Sticks will reduce redness, tighten pores, contour the skin and drain excess lymphatic fluid.
Paired with Masque PIGM400 Sheet Mask, this duo is the perfect New Year's Eve party prep. 
Your bestie who just moved out of the city is definitely missing that good NYC water. The Jolie Filtered Showered is the perfect gift to give her hair and skin that city shine!
Moving to a new city can be a welcome fresh start for those looking to reinvent themselves with a new career, new boyfriend or new adventure in the New Year. Unfortunately for our hair and skin, a sudden change in our environment, climate and water can wreak havoc. 
Nearly all of the water in the country contains chlorine, heavy metals & other contaminants, which all contribute to dry skin, damaged hair, change in hair color, and rashes/irritation. The Jolie Filtered Showerhead removes chlorine, heavy metals & other contaminants from your shower water to improve your skin, hair and wellbeing.
Available in a variety of chic colors and finishes, the Jolie is sure to be your most used gift this season! 
For the Anti-Aging Obsessed

We've all got that one aunt who is overly concerned with her newly sagging skin and every fine line that pops up on her skin. Put her anti-aging anxiety at ease for Christmas with the ultimate skin care device!
Pietro Simone's The Fierce Skin Stimulator is comes with not just one, but 4 advanced technologies. This facial massager will simultaneously lift, tighten, depuff and brighten the skin.
Electronic Muscle Stimulation (EMS), Radio Frequency, LED and Lymphatic Drainage work together to target different levels of the skin for an intense at-home treatment.
This at-home face lifting device is the gift that keeps on giving! Those lucky enough to receive this face-changing tool will be thanking you endlessly this time next year- trust us.
For the Skincare Junkie Who Wants to Try It All

There's nothing a skincare junkie loves more than trial size products to play with on a Sunday night! 
Valmont's Holidays in Neverland Advent Calendar features 12 gifts in one that will delight the senses and bring glowy skin joy for the holidays!
This limited-edition holiday gift set from the luxury Swiss skincare line is stocked with all of their cult-favorite products that are a definite must-try, including two exclusive fragrances.
For the Busy Mom Who Needs a Quick Pick-Me-Up

Exquisite Dual Hydration Sheet Masks are the ideal gift for moms who want to pamper their skin but feel like they don't have the time - here's why:
These highest quality bio-cellulose sheet masks form a second skin that adheres to the face better than any mask we've tried. This means you can change diapers and chase your toddler around all while infusing your skin with nourishing hydration without worrying about it slipping and sliding!
Infused with a cutting-edge marine peptide and extra hyaluronic acid, these easy-to-use sheet masks plump fine lines and impart a healthy glow that can fake a full night's sleep in 10 minutes!
For the ultimate luxury skincare lover, there is no other gift than Valmont's exclusive, limited-edition La Quintessence 30 Day Intensive Treatment.
The collection includes La Sève des Glaciers, a morning treatment infused with Valmont's signature sturgeon DNA extract and phyto-alpine plants. Used under a day cream, it helps repair and protect against environmental damage. 
La Source des Glaciers is used overnight, to regenerate and turn over skin cells, while Le Nectar des Glaciers deeply hydrates with sturgeon DNA, glacial spring water, and a royal jelly peptide. 
Formulated with over 69% active ingredients, this hard-to-find exclusive set will transform the skin in 4 weeks. 
This latest collection is housed in a chic, limited edition collector's box that is sure to make luxury skincare lovers excited this season!
Available exclusively at Flawless by Melissa Fox.
---