Biologique Recherche PIGM400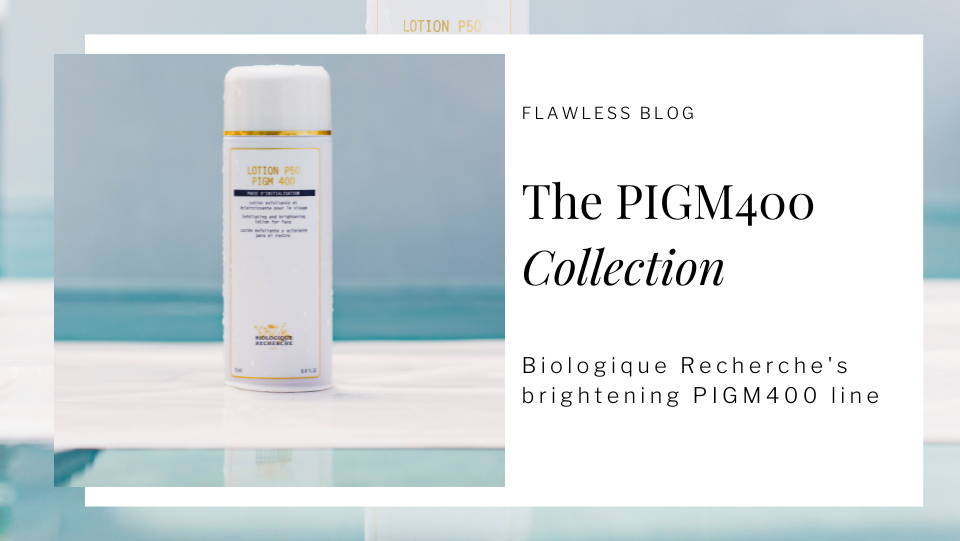 WHY YOU NEED EYE CREAM. HOW TO NOT LOOK TIRED HOW TO USE EYE CREAM. FLAWLESS BLOG. MELISSA FOX   BEST EYE CREAM
When it comes to the value of an even skintone, NYC Dermatologist Shernee Idriss said it best: "An even skintone is next to godliness." Fine lines, wrinkles, enlarged pores and texture seem to fade into the background when a bright, glowing skin tone is achieved. Biologique Recherche's PIGM 400 collection is designed to help you achieve an even-toned complexion without irritation, with all the chicness of the luxe, cult-favorite French skincare line.
Biologique Recherche's coveted PIGM 400 collection consists of an exfoliating toner, a targeted serum, a sheet masque and a cream. Together, these products work synergistically to lighten existing hyperpigmentation and prevent future dark spots, all while protecting the skin from environmental toxins that might dull the skin tone with powerful antioxidants. If it sounds like a skincare dream come true, it is!
Lotion P50 PIGM 400 - A daily brightening, exfoliating toner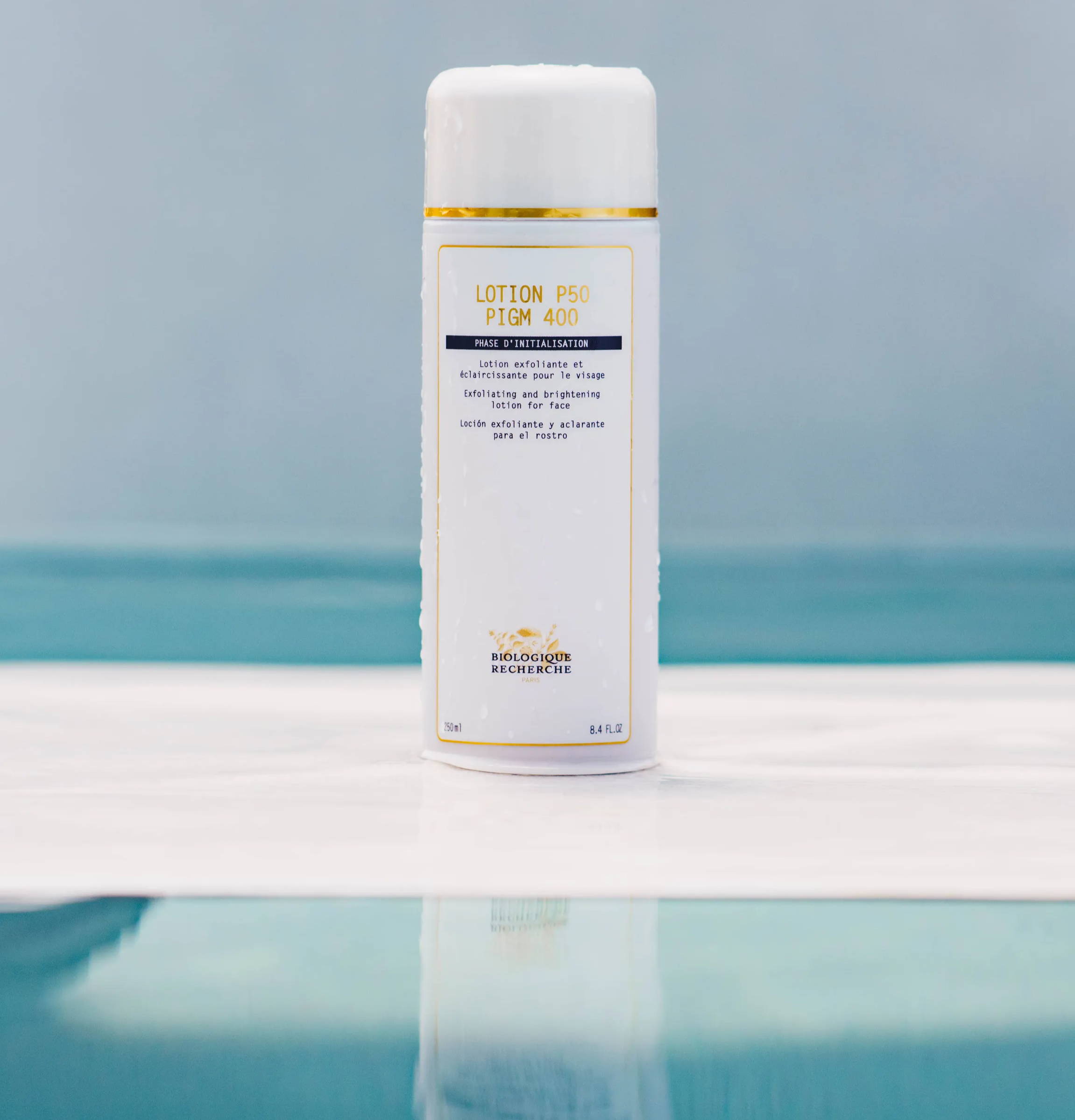 The cult-classic exfoliating toner Lotion P50 comes in several "flavors." If hyperpigmentation is your main concern, choose Lotion P50 PIGM 400.
This powerhouse toner is formulated with gentle exfoliating acids such as Lactic Acid, Mandelic Acid and Salicylic Acid to slough away dead, pigmented skin cells and reduce melanocyte (pigment cell) activity. Brightening agents like Niacinamide, Gluconolactone and Lactobacillus Ferment help to lighten existing pigmentation and fight off environmental pollutants with their antioxidant power.
This toner is best used daily, AM and/or PM depending on your skin's tolerance. After cleansing, apply Lotion P50 PIGM 400 generously to a cotton round and press into the skin. Allow to dry before following with serums and creams.
Lotion P50 PIGM400 is perfect for all skin types, even the most sensitive skin, as it is the most gentle of the Lotion P50 formulas.
Masque PIGM 400 - The ultimate pre-party sheet mask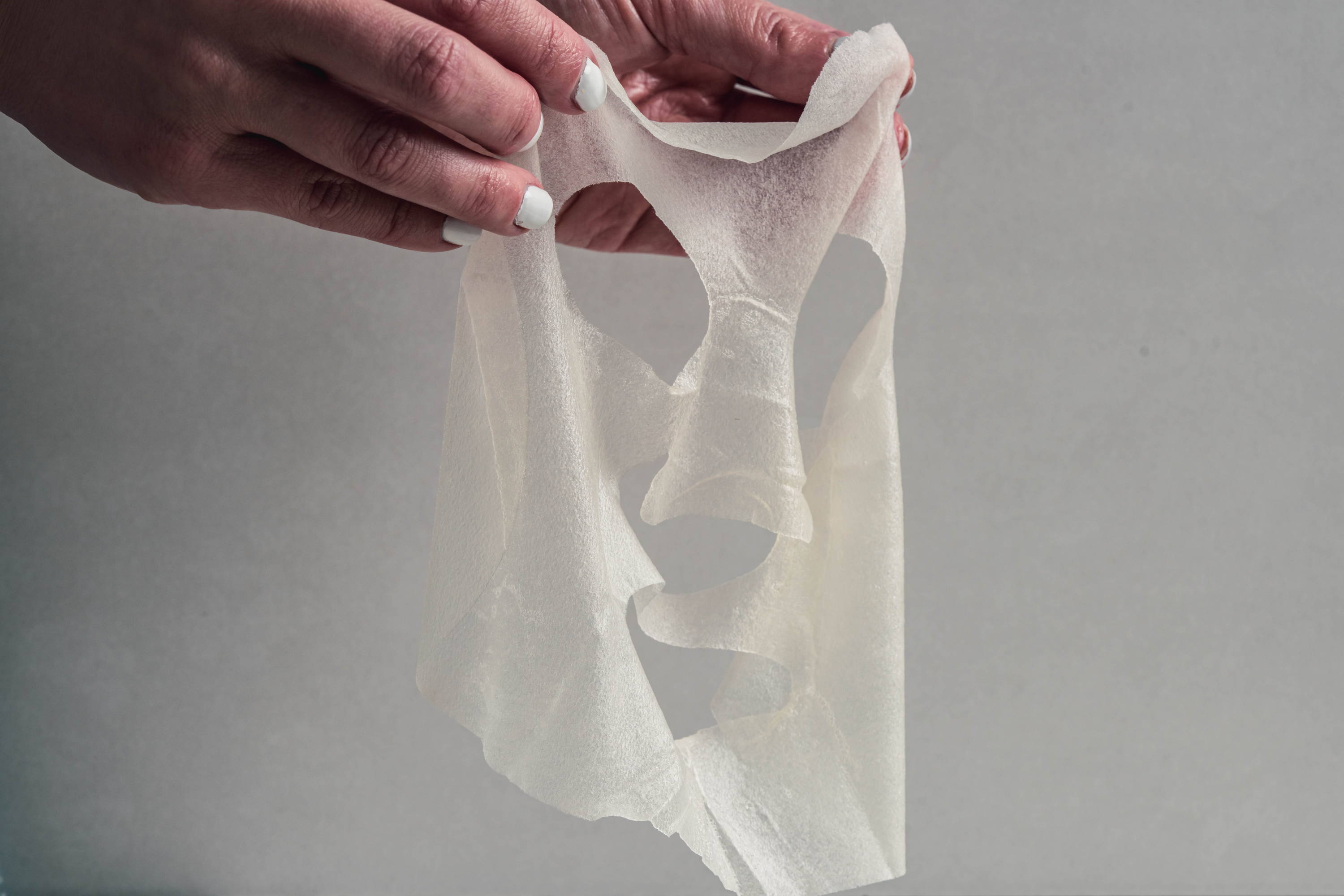 If you're looking for dramatic results in a pinch, Biologique Recherche's Masque PIGM 400 will deliver. This juicy, ultra-hydrating sheet mask will drench your skin in a luxurious serum, leaving behind a dewy glow that lasts all night long.
Enriched with vitamin C, gentle alpha-hydroxy acids and humectants, this mask instantly brightens dull complexions, plumps fine lines and smoothes surface texture. With enough serum left on the skin for a generous massage, Masque PIGM 400 is the perfect pairing for CryoSticks or your favorite Flawless facial device.
Perfect for all skin types, including dehydrated and acne prone, this mask is best used after Lotion P50 PIGM 400. Can be used 2-3 times per week.
Serum PIGM 400 - Your daily brightening cocktail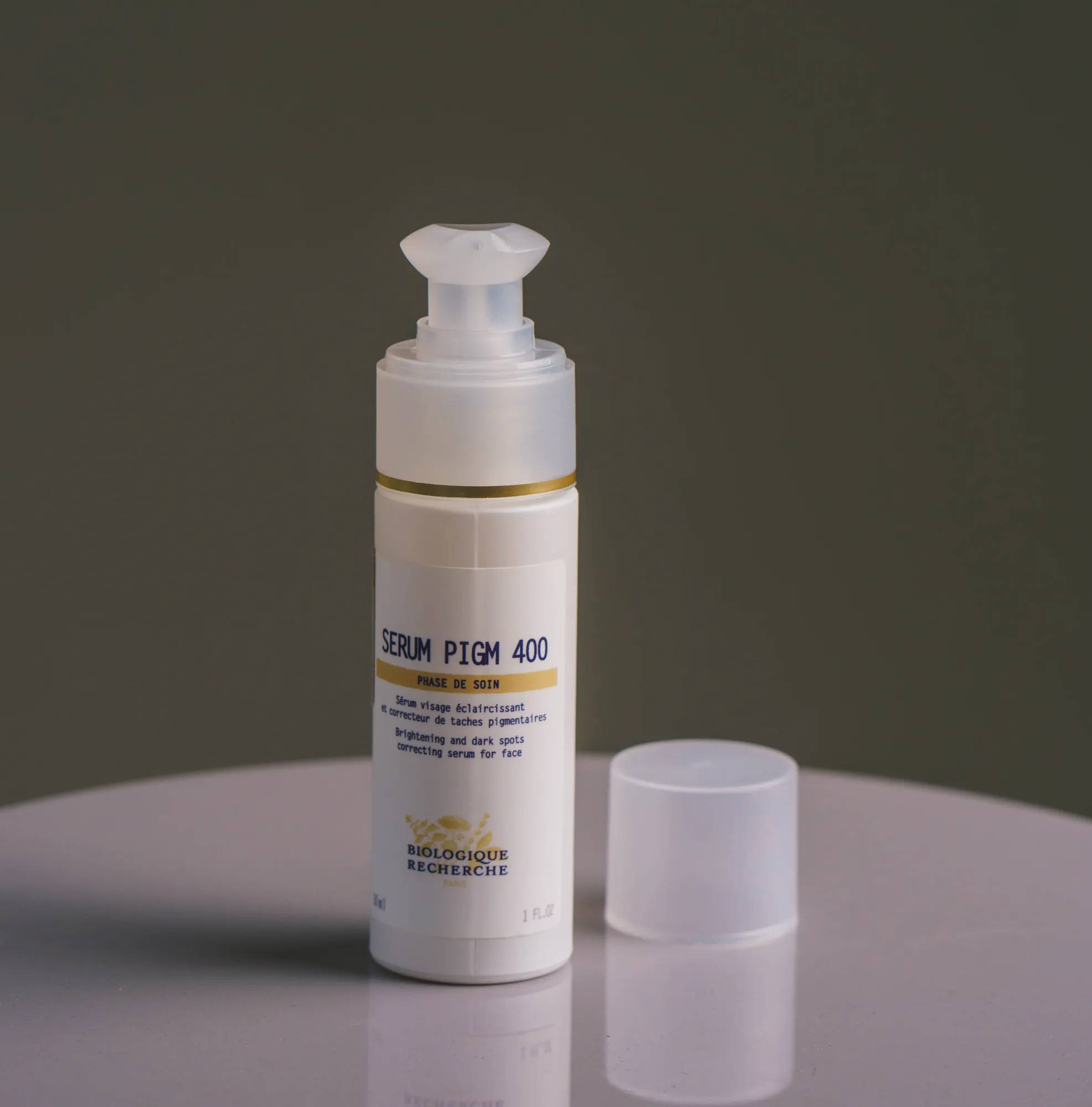 Serum PIGM 400 is a brightening, spot-correcting serum that illuminates the complexion and fights free radicals. This serum delivers powerful results against hormonal melasma, sun damage, post acne marks and dull skin tones.
Among its powerhouse ingredients are Soy Isoflavones, a potent antioxidant that is proven to inhibit UV-induced redness in human skin. Soy isoflavones are also thought to be useful for situations when natural estrogen levels are low, making it especially effective for hormonal melasma.
Brigthening peptides proven to fade pigmentation and free-radical scavenging antioxidants make this serum a worthy rival for the most uneven skin tones.
Serum PIGM 400 is best used once or twice daily, depending on tolerance. After cleansing and applying Lotion P50 PIGM 400, apply a thin layer of Serum PIGM 400 all over. Allow to penetrate and follow with moisturizer.
Creme PIGM 400 - The Flawless glow in a jar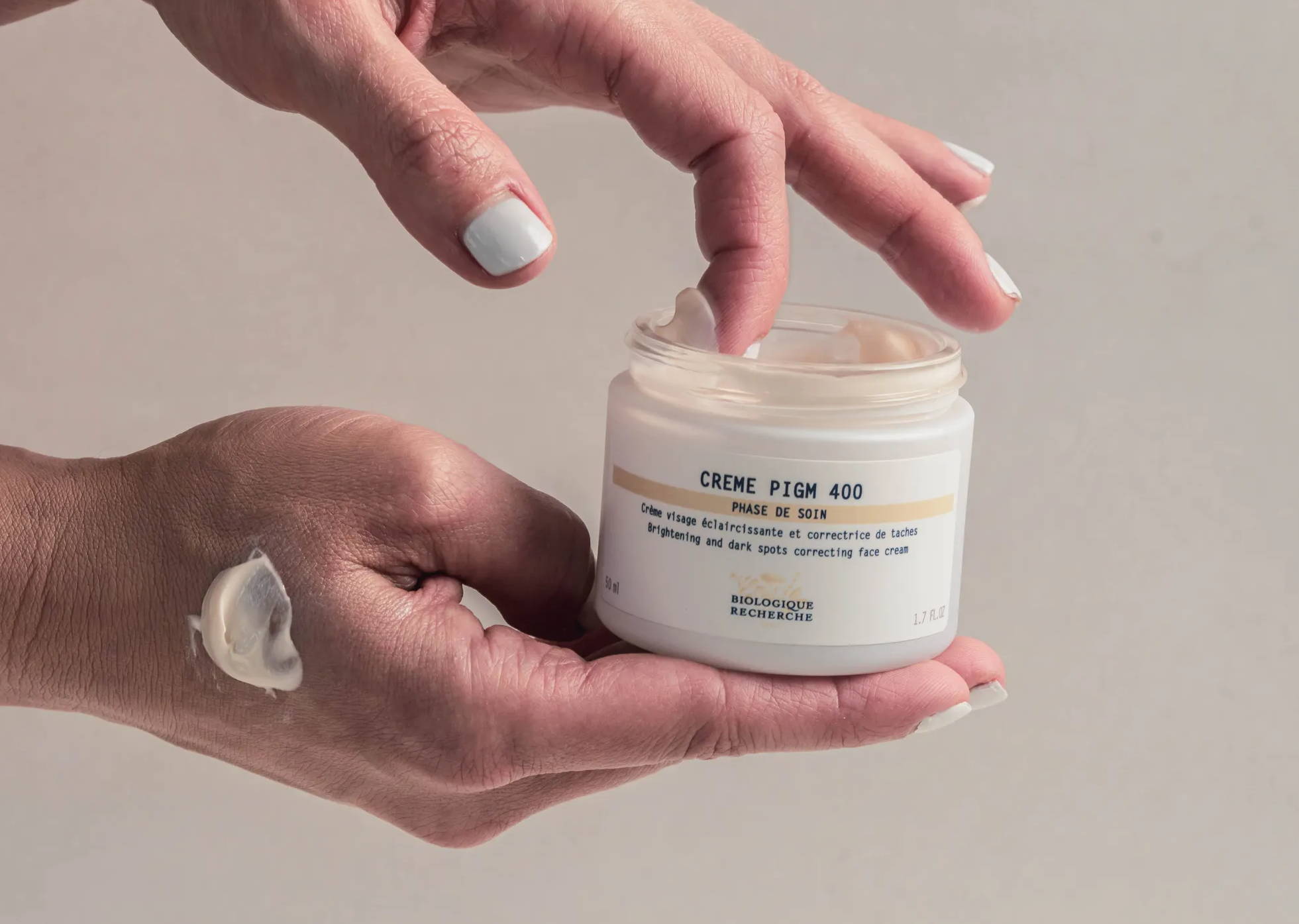 The ultimate beauty secret, Creme PIGM 400 is on every face that walks out of a Flawless facial. With glow-boosting minerals and lightweight hydrating ingredients, this creme is perfect for those looking for dewy, lightweight hydration or as a mix-in to add radiance to your favorite cream or oil.
With many of the same brigthening superstars as its serum counterpart, Creme PIGM 400 is as powerful as it is beautiful. With Chroma-brightening ingredients and skin barrier-boosting extracts, this is the ultimate day cream for all skin types, including oily, combo and dehydrated skin. For dryer skin types, we recommend mixing Creme PIGM 400 with your favorite nourishing cream.
The gentle, synergistic ingredients of Biologique Recherche's PIGM 400 collection are designed to work together without irritating the skin. Each PIGM 400 product can be used in comination with one another for fastest results.
---