Biologique Recherche Mixology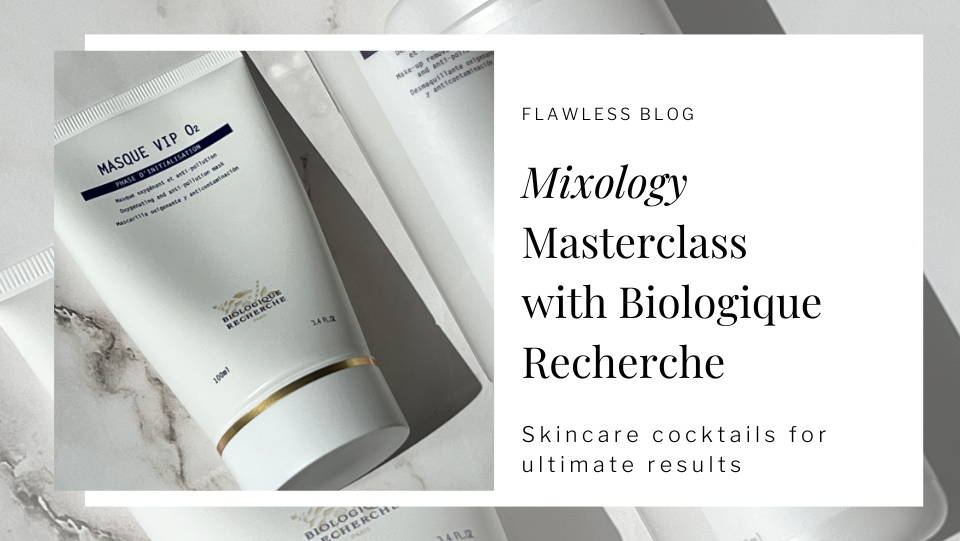 WHY YOU NEED EYE CREAM. HOW TO NOT LOOK TIRED HOW TO USE EYE CREAM. FLAWLESS BLOG. MELISSA FOX   BEST EYE CREAM
Updated: October 18, 2023
A great cocktail is three things: unique, balanced and beautifully presented. A great skincare routine should have the same attributes. Uniquely formulated for your specific concerns with balanced active and soothing ingredients, and beautifully displayed on your vanity. 
Putting together the perfect skincare routine is a lot like crafting a cocktail. Ingredients are carefully selected to blend together but also standout for the desired effect. No skincare line understands this balance better than Biologique Recherche.  
With over 15 serums, 20 creams and enough masks to get you through your worst skin woes, Biologique has crafted each of their of their products to produce results that are targeted towards highly specific skin issues. While each Biologique Recherche skincare product is formulated and tested to produce results individually, the true magic lies in cocktailing complimentary products to achieve faster results. 
Here at Flawless by Melissa Fox, we are experts in Biologique Recherche product mixology. These are our Top 5 Favorite Biologique Recherche Product Cocktails for faster, better results:
The Classic: Masque Vivant + Masque VIP O2
Equal parts Masque Vivant and Masque VIP O2, mixed thoroughly and applied for 15 minutes.
If the first thing that comes to mind when you hear Biologique Recherche is "stinky brown mask," you're not alone. Masque Vivant is a cult-favorite for a reason. This yeasty, exfoliating mask is superbly effective at clearing clogged pores and smoothing skin texture with weekly use. 
On its own, Mask Vivant is ideal for dull, congested and oily skin. But when combined with Masque VIP O2, this treatment takes on a whole new personality. Ultra-brightening, ultra-creamy and oh-so refreshing.
Using Masque Vivant and Masque VIP O2 together can help to achieve the best results for your skin care routine. Masque Vivant works to deep cleanse pores and remove impurities from the skin. Masque VIP O2 on the other hand, helps to deeply nourish the skin and restore its protective barrier, which increases its natural defenses against everyday aggressors like UV rays, dryness and pollution. Together, these masks can help to deeply purify, nourish and oxygenate the skin, resulting in a healthier, brighter complexion. This Biologique Recherche mask cocktail promotes a more even skin tone, diminishing the appearance of dark spots and fine lines while adding a luminous glow to the skin.
The Glowing Goddess: Creme PIGM400 + Fluid VIP O2
Mix a dime size amount of Creme PIGM400 with 2-3 drops of Fluid VIP O2. Apply as the last step of your skincare routine. 
If you've been searching for that "It Girl" glow, look no further than this insanely dewy skincare cocktail. Equally brightening and blurring, this hydrating duo masks imperfections and reflects light for the most naturally lit-from-within glow.
Creme PIGM400 is a cult-favorite lightweight moisturizer with a pearlescent finish. Formulated with potent antioxidants, this cream helps fade existing pigmentation and prevent free radical damage for a glow that is more than just skin deep.
Fluide VIP O2 is a lightweight serum that protects the skin from pollution and seals in the rest of your skincare routine. With a glass-like dewy finish, this finishing serum is the key to the signature Biologique Recherche glow.
Combine these glow-boosters for dewy, even-toned skin that is protected from environmental aggressors. Ideal before makeup. 
8 Hours in a Bottle: Serum Liposmose and Creme Contour Des Yeux VIP O2
Apply 1 drop of Serum Liposmose under each eye and over the eye lid. Follow with Cream Contour des Yeux VIP O2. 
If too many cocktails (not the skincare kind) have got your undereyes looking less than well-rested, this under eye duo is sure to offer some relief. 
Serum Liposmose is a watery serum designed to instantly alleviate puffy undereyes and eye lids. This is advanced serum targets all causes of puffiness, including water retention and fatty deposits. 
When combined with the brightening effects of Creme Contour Des Yeux VIP O2, this skincare cocktail is a 1-2 punch for tired eyes. 
This duo is best used in the morning, but Serum Liposmose can be used alone at night to prevent puffy morning eyes. 
The Dirty Detox: Biomagic Mask and Masque Bain de Plantes
Equal parts Biomagic Mask and Masque Bain de Plantes, mixed thoroughly and applied for 15 minutes.
If large pores and texture are your main concern, this detoxifying mask cocktail will hit the spot. 
Melissa Fox's personal favorite daily mask ritual, this deeply purifying and soothing mixture instantly tightens pores and reduces inflammation without overdrying the skin. 
Formulated with oil-regulating and purifying ingredients, Masque Bain de Plantes helps absorb excess oil that can leave pores looking stretched and open. Biomagic Mask is similarly purifying but contains soothing clays and nourishing ingredients that support the skin barrier and reduce inflammation.
Together, this mask cocktail rebalances, tightens pores and soothes the skin leaving behind no dryness, just perfectly clear and calm skin. Ideal for morning use before makeup application. 
The Sunday Scary: Creme Acid de Fruits and Creme Masque Vernix
Mix equal parts Creme Acid de Fruits and Creme Masque Vernix at night. Apply as the last step of your skincare routine once per week. 
If Sunday rolls around your skin is not looking ready for your Monday morning meetings, this extra strong skincare cocktail is sure to ease your skincare scaries. 
Biologique Recherche Creme Acid De Fruits is an intensive exfoliating cream formulated with fruit extracts, creating a mild chemical exfoliation which gently sloughs away dead skin cells. It also contains ingredients like Hyaluronic Acid, Sage Oil and Sunflower Extracts to help nourish, moisturize, and protect the skin while also creating a protective barrier to prevent environmental damage. This cream works by evening out the skin's pH balance, restoring its natural brightness and glow.
The secret to using Creme Acid de Fruits is mixing it with Creme Masque Vernix for an overnight cocktail that is equal parts soothing and exfoliating. Creme Masque Vernix is the ultimate skin cocoon, providing protection and regenerating the outer layers of skin for a healthy skin barrier. 
Use once per week for bright, exfoliating skin without irritation. This skincare cocktail is not recommended for sensitive skin.
---