Biologique Recherche Body Products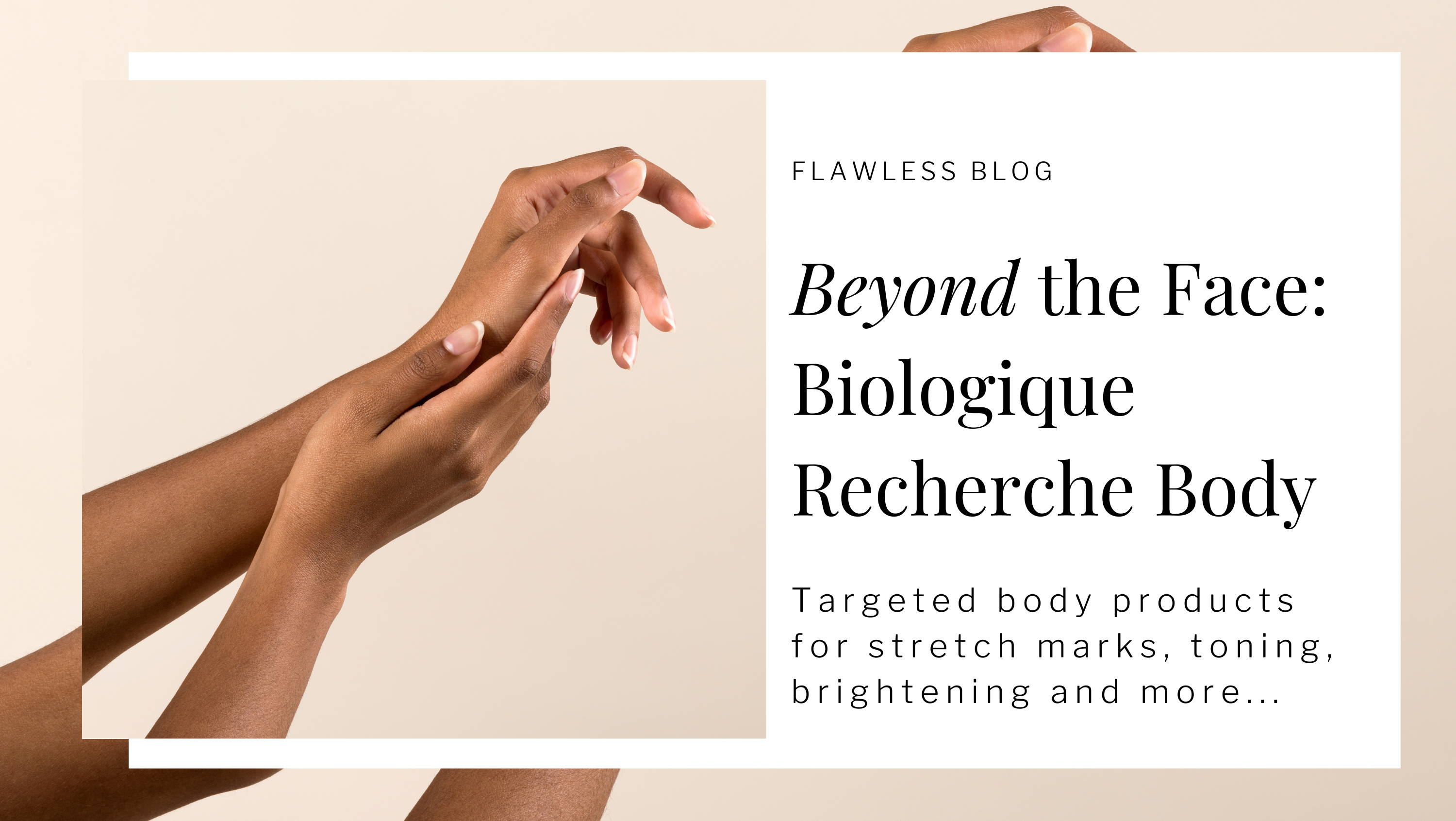 WHY YOU NEED EYE CREAM. HOW TO NOT LOOK TIRED HOW TO USE EYE CREAM. FLAWLESS BLOG. MELISSA FOX   BEST EYE CREAM
Biologique Recherche's stellar reputation in the skincare world often orbits around their facial skincare products, with their potent formulas and transformative results taking center stage. Yet, a lesser-known treasure trove in their collection lies in their body skin care range. While many prioritize facial skincare—given that our faces are the most exposed and often the first to show signs of aging—it's essential to understand that the skin on our body deserves equal attention. Just as the face battles external aggressors, the body too endures daily wear and tear, making it prone to dryness, elasticity loss, and other concerns. By neglecting body skin care, we risk premature aging, uneven skin tone, and reduced overall skin health.
Biologique Recherche recognizes this holistic need and has developed a range of body products that echo the brand's reputation of innovation, efficiency, and precision. Their body products harness advanced technology and meticulous research, ensuring that each formula addresses specific concerns, from hydration to firming and beyond. Whether it's a serum targeting cellulite or a cream designed to rejuvenate post-sun skin, Biologique Recherche crafts body products with the same dedication and detail as their facial range.
Use: Designed to treat white stretch marks, apply this cream on affected areas through light massaging.
Function: This treatment cream works diligently to reduce the appearance of white stretch marks, restoring the skin's smooth texture.
How It Works: By promoting skin exfoliation and reconstruction, Creme B-Stria promotes elasticity and helps diminish the appearance of these stretch marks.
Why It's Superior: Rarely do products address white stretch marks so effectively. Its potent formulation ensures visible results over consistent use.
Use: Best applied post-shower on damp skin, it hydrates the entire body.
Function: It's a comprehensive body moisturizer.
How It Works: Combining shea butter and omega 3 & 6, this cream restores the lipid barrier of the skin.
Why It's Superior: Its dual-action of hydration and lipid replenishment sets it apart from conventional moisturizers.
Use: Apply on target areas like the stomach, waist, or thighs.
Function: Tailored for sculpting and toning.
How It Works: It aids in tightening the skin and reducing localized fat.
Why It's Superior: Its specialized formulation offers more than superficial results, focusing on genuine skin toning.
Use: Apply daily to the entire body.
Function: It acts as a revitalizing and firming cream.
How It Works: Enriched with shea butter and natural moisturizing sugar, it nourishes and tones the epidermis.
Why It's Superior: The dual action of nourishment and toning ensures skin feels soft and looks firm.
Use: Use post-shower, applying it to the entire body.
Function: Oxygenating and hydrating body lotion.
How It Works: It revitalizes and brightens the skin, protecting against external aggressors.
Why It's Superior: The oxygenating benefit makes it ideal for urban dwellers, combating pollutants effectively.
Use: Apply a few drops on the face, neck, or hair.
Function: A rejuvenating oil.
How It Works: With 13 essential oils, it restores radiance and tonicity.
Why It's Superior: Its versatility as a face, body, and hair oil, coupled with a potent blend of oils, makes it a must-have.
Use: Massage it onto areas with cellulite.
Function: Targets cellulite.
How It Works: Improves circulation and reduces the appearance of cellulite.
Why It's Superior: The targeted approach ensures that cellulite, often a stubborn concern, is effectively addressed.
Use: Apply a few drops to damp hair, massaging the scalp.
Function: An exfoliating scalp lotion.
How It Works: Balances the scalp's pH, purifies, and gently exfoliates.
Why It's Superior: Healthy hair begins with a healthy scalp. This product ensures the scalp remains in optimal condition.
Use: Apply to areas lacking firmness.
Function: A toning and firming serum.
How It Works: It addresses skin slackening and ensures a toning effect.
Why It's Superior: By targeting sagging skin directly, this serum provides visible and tangible firming results.
---