WHY YOU NEED EYE CREAM. HOW TO NOT LOOK TIRED HOW TO USE EYE CREAM. FLAWLESS BLOG. MELISSA FOX   BEST EYE CREAM
Achieving clear, glowing skin is always at the top of our list of New Year's resolutions. And while investing in the right skincare products and professional treatments will do wonders for the appearance of your skin, it will all be in vain if your lifestyle choices aren't supportive of your skin journey.
Diet plays an essential role in the overall health of our skin. Just like any other organ, the skin has nutritional requirements to help it function optimally. Choosing whole foods that are rich in skin-loving ingredients like antioxidants and essential fatty acids will take your glow game to the next level!
Here are 5 Foods to Eat in the New Year for Flawless Skin:
Avocados are full of healthy fats, vitamin E and carotenoids, all of which are essential for healthy skin. Essential fatty acids like Omega-3s and Omega-6s are the building blocks of healthy cell membranes. These polyunsaturated fats also help produce the skin's natural oil barrier, critical in keeping skin hydrated, plumper, and younger looking.
Vitamin E is a powerful antioxidant that helps protect skin from harmful free radicals and environmental stressors, like sun damage and pollution. It also helps defend against fine lines and wrinkles. Carotenoids, on the other hand, are an important source of pigment that helps increase the skin's natural resilience. 
Fatty fish, like salmon and tuna, are excellent sources of Omega-3 fatty acids. These essential fatty acids are crucial for skin health, as they help maintain the structure of the skin cells and combat inflammation. Omega-3s help keep skin looking young, elastic and radiant. They can also reduce the signs of aging, such as wrinkles and sunspots. Additionally, fatty fish is a great source of vitamin D, which has been linked to improved wound healing and protection from skin disorders.
A diet rich in fatty acids is espeically beneficial for those with dry skin. Healthy fats help to strengthen the skin barrier, allowing the skin to retain moisture and prevent water loss.
Berries are a potent source of antioxidants that are essential for maintaining optimal skin health. Antioxidants help repair damage from free radicals, which can cause premature skin aging. Berries, like blueberries and cranberries, are especially rich in proanthocyanidins, which are compounds that help protect against oxidative damage caused by ultraviolet (UV) rays from the sun.
Berries are also chock full of vitamin C, which has been proven to stimulate the production of collagen, a protein that supports skin structure and helps it stay wrinkle-free.
Antioxidant-rich foods are essential for those who love to enjoy a day in the sun. Help your skin repair itself from sun damage by adding berries into your diet daily.
Eating nuts on a regular basis is a great way to help maintain healthy skin. Nuts are high in healthy fats, which can help keep your skin barrier strong and prevent dehydration. They're also packed with essential vitamins like Vitamin E and other antioxidants, which can help guard against oxidative damage from UV rays. Additionally, some nuts contain omega-3 fatty acids, which may help reduce inflammation and promote collagen production. All these nutrients working together can help delay the signs of aging and keep your skin looking healthy and vibrant.
Dark, leafy green vegetables such as kale, collard greens, spinach, and Swiss chard, are extremely beneficial for your skin. These nutrient-rich vegetables are full of antioxidants, omega-3 fatty acids, and vitamins that nourish the skin and help protect against premature aging. Dark leafy greens contain beta-carotene which protects against free radicals, helping to keep skin looking young and healthy. They also provide a great source of vitamins A, C, and E. Vitamin A helps promote healthy cell growth, while vitamin C helps to form collagen, which gives the skin its structure and elasticity. Vitamin E can help reduce inflammation in the skin and protect it from damaging UV rays.
Smoothie Recipe for Glowing Skin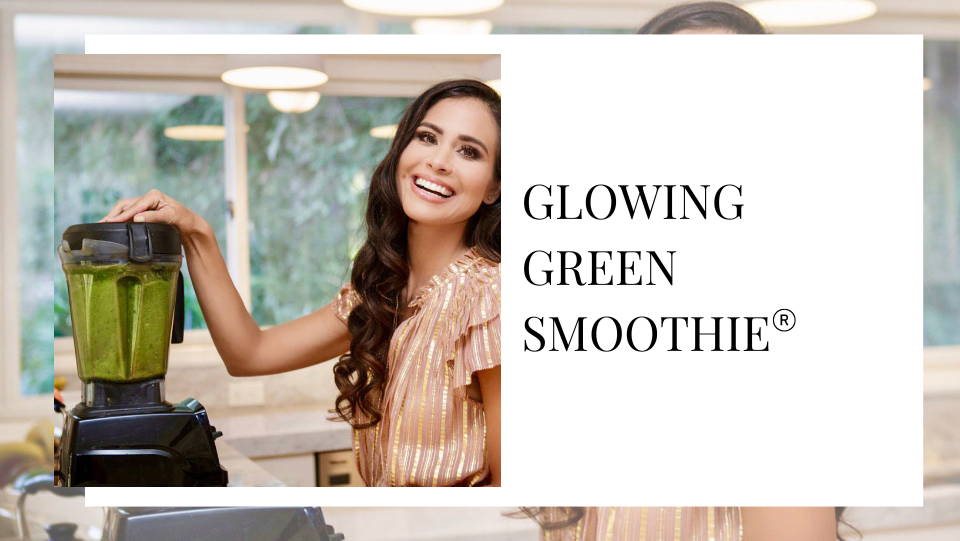 Flawless Lead Esthetician Marissa Roque (@acnefacialsbymarissa) is a big fan of Kimberly Snyder's Glowing Green Smoothie® (GGS). 
Enjoy this smoothie daily for a boost of antioxidants and skin-essential vitamins!
Ingredients:
7 cups chopped spinach about a medium bunch

6 cups chopped romaine lettuce about 1 small head

2 cups cold filtered water

1 1/2 cups chopped celery about 2 medium stalks

1 medium apple cored and coarsely chopped

1 medium pear cored and coarsely chopped

1 medium banana peeled and cut in thirds

2 tablespoons freshly squeezed lemon juice

1 ⁄2 cup minced fresh cilantro stems are okay(optional)

1 ⁄2 cup minced fresh parsley stems are okay(optional)
Instructions:
Combine the spinach, romaine and water in a blender and begin processing on low. Gradually move to higher speeds and blend until smooth.

Next, add the celery, apple, and pear, and the cilantro and parsley (if using). Lastly, add the banana, lemon juice and ice (if using), and blend until smooth. Serve at once or refrigerate, covered, for up to 2 1/2- 3 days.
Flawless Tip: Add half an avocado to your smoothie for extra healthy fats to keep you full longer and promote hydrated, strong skin.
---