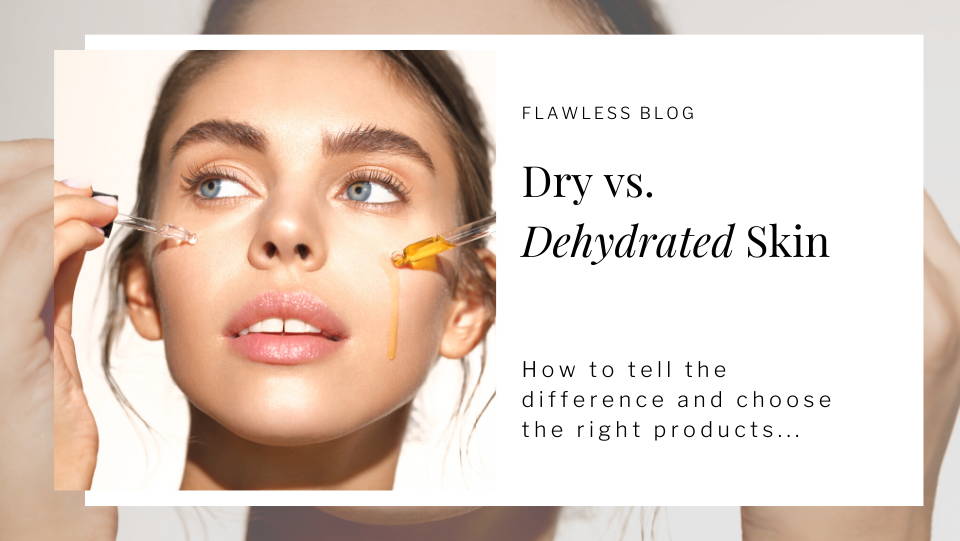 WHY YOU NEED EYE CREAM. HOW TO NOT LOOK TIRED HOW TO USE EYE CREAM. FLAWLESS BLOG. MELISSA FOX   BEST EYE CREAM
Have you ever gotten a facial and had your esthetician tell you that your skin is dehydrated even though you thought you had oily skin? She may have recommended hydrating serums and lotions, leaving you feeling confused about why you should be using these products on your oily skin.
Dehydrated skin is a condition that can affect any skin type. Dry skin, oily skin - these are skin types that are predetermined by how much oil our skin produces. It's in our genetics. Dehydrated skin, however, is a temporary condition caused by a lack of water content in the skin. Even the most oily skin can suffer from dehydration.
Determining whether you have dry or dehydrated skin can be confusing. Even more confusing is differentiating between products that are designed to boost the oil content of dry skin versus products that quench oily skin with hydration without clogging pores.
In this article, we'll breakdown how to determine if your skin is dry or dehydrated, and how to select that right products to rebalance your skin.
Dry skin is all about oil production. How much oil your skin naturally produces is genetically predetermined. If you have dry skin, you've probably had it your whole life. Skin can also become dry after a hormonal change, such as going through menopause.
Our skin needs oil to coat and protect the outer layers of skin. Without proper oil production, skin feels rough, itchy and can be more sensitive to environmental aggressors. 
Symptoms of Dry Skin:
Rough Texture
Redness
Flaking
Tightness
Itching
Dehydrated skin is all about water. Regardless of how much oil your skin products, if your skin is lacking in sufficient water, it will become dehydrated. Healthy skin contains around 30 percent water, which is essential for maintaining the skin's structure, strength, and resiliency. 
Dehydrated skin can be caused by a sunburn, heat exposure, sweat, over-exfoliating, or simply using the wrong skincare products. 
Symptoms of Dehydrated Skin:
Fine lines that look like tiny cracks on the surface of the skin when stretched
Tightness - especially after cleansing
Flaking 
The relationship between dehydrated skin and oily skin can be complicated. If the skin becomes too dehydrated, it can actually begin to overproduce oil to compensate. As the skin becomes increasingly oily, you may find yourself less inclined to use moisturizing products. However, you are only making the condition worse by further depriving the skin of essential hydration. 
The key is to use hydrating products that will replenish your skin's water content without clogging pores. 
Top 5 Skincare Products for Dehydrated Skin:

Dry skin, on the other hands, needs products that will supplement additional oils and lipids to compensate for the lack of natural sebum production. These products may not be suitable for acne prone skin, as the rich oils can clog pores. 
Top 5 Products for Dry Skin:

---